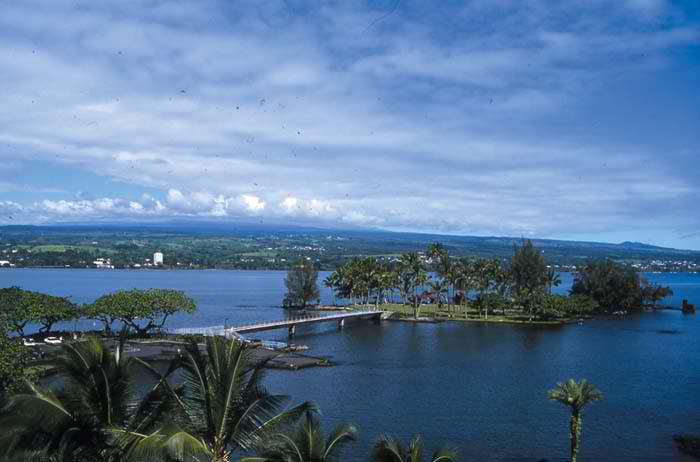 Coconut Island, originally named Moku Ola, is a small island in Hilo Bay popular as a swimming destination and picnic spot. It is connected to another popular Hilo attraction, the Lili'uokalani Gardens, via a concrete foot bridge.
Moku Ola, which literally means "island of life" in the Hawaiian language, used to be  a site of an ancient temple dedicated to healing. During the olden times, the island's spring waters were known to cure all sorts of ailments. The island is also known as a place of refuge for ancient Hawaiians who broke the law. All they have to do was swim to the island without getting caught by the warriors chasing them then they will be pardoned for whatever crime they had committed.
Park facilities include a grassy lawn, picnic tables, showers and rest rooms. On the east side of the island is a concrete tower which is a remnant of the old footbridge which was destroyed by a tsunami in 1946. The 15-foot tower has become a platform for local kids and tourists to jump into the ocean.
Apart from the numerous coconut trees the island was named after, there are also some pine trees!  Don't worry about coconuts falling on your head while relaxing and enjoying the views, the trees are regularly maintained to prevent any nut or frond from falling off unsuspecting visitors.
From Coconut Island one has a great view of Hilo Bayfront, Downtown Hilo, and the rest of Hilo Bay. To the east, you can see the massive breakwater protecting Hilo Bay. The footbridge is a popular spot for taking souvenir photos and an ideal spot for watching sea turtles.
To get there, take Banyan Drive and follow the road past the Naniloa, Uncle Billy's, and Hilo Hawaiian hotels. Turn right after the Hilo Hawaiian hotel. Liliuokalani Gardens will be on your left, and the Coconut Island parking lot will be on your right.
Other popular tourist destinations in the area apart from the Liliuokalani Gardens are Banyan Drive and Reeds Bay Beach Park.
Coconut Island - Hilo Bay, Hawaii Photos