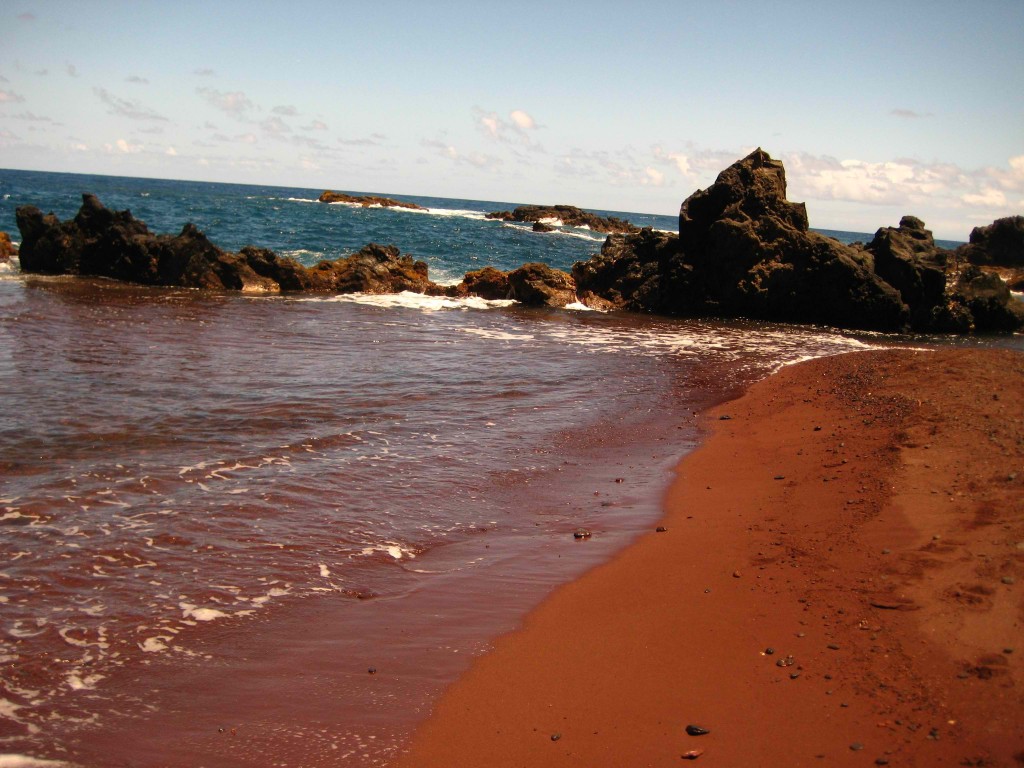 Hana Bay in East Maui offers beaches in a variety of colors and sizes. One of its exotic beaches is the Red Sand Beach on Kaihalulu Bay, which is located in a volcanic cinder cone. The erosion of the volcanic cinders gives its sand a vibrant red hue.
Going to the Red Sand Beach is a bit tricky because of its wild, remote location. The seclusion makes it one of the best kept secrets of Maui. But visiting this small beach is all worth the effort as it is one of the most beautiful and least crowded beaches in Hawaii. The red sand, turquoise waters, blue sky, green vegetation and black lava rock sea wall give it an other-worldly charm, truly a feast for the eyes.
To get to red Sand Beach, take Uakea Road beyond the turnoff to Hana Bay. Keep going until you pass tennis courts on the right and a community center on the left. Across a field between the community center and a hotel, pick up a path. Take the path to a Japanese cemetery and turn right. The trail is steep and slippery and you will need to hang on to the ironwood trees. The trail suddenly turns a corner and into view comes the stunning red beach. Make sure to wear some sturdy footwear when going there.
Red Sand Beach is safe for swimming and snorkeling, thanks to the lava formations that protect it. On the Hana Bay side of the beach is a natural whirlpool bath. It is near the ocean opening so be careful not to get too close to the opening as the current can be dangerous. You might also see a nudist or two soaking up the sun as the isolation makes them think that it is a clothing-optional beach.
Red Sand Beach Photo Gallery