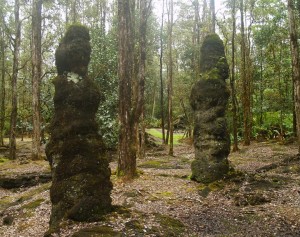 Lava Tree State Park is one of Hawaii's most unusual attractions. It is located 2.7 miles (4.3 km) southeast of Pāhoa in the Puna District on the island of Hawaii. It preserves lava molds of ohia tree trunks that were formed when a lava flow swept through a forested area in 1790.
The centuries-old monuments were formed when a fast-flowing stream of lava engulfed a forest of ohia trees to a height of 13ft/4m. The lava cooled around the trees and formed a hard outer shell. At about the same time, fissures appeared underground, caused by several earth tremors, through which the still-liquid lava drain away.
At present, fresh tall trees have grown up, providing a unique contrast to the petrified stumps which are the sole remnants of the old engulfed forest and making a visit to State Park a very worthwhile experience.
Entry to the park is free.  Facilities include restrooms, picnic tables, and 3 covered structures to provide refuge from the rain or sun. It is open daily during daylight hours only, since there are no lights on the path. No camping, and no mountain bikes are allowed in the park. There are no water fountains at the park, visitors should bring their own. Although there is a paved path, tree roots have lifted and separated parts of the path so toddlers and the elderly may need assistance.
How To get There
From the Hawaii Belt Road (State Route 11), take Highway 130, known as Keaʻau-Pāhoa Road, toward the town of Pāhoa. Bypass the first intersection that would take you into Pāhoa by staying to the left. Continue to the traffic light where Pāhoa Bypass Road, Keaʻau-Pāhoa Rd and Pāhoa-Kapoho roads meet. At this intersection, make a left onto Highway 132, Pāhoa-Kapoho Road. Continue for about 3 miles (4.8 km) to Lava Tree Road on your left. The park is located on your right, about 150 feet (46 m) down Lava Tree Road.