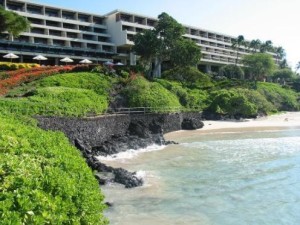 The Mauna Kea Beach Hotel sits at Kaunaoa Bay on the Kohala Coast of the island of Hawaii. It was named after the mountain Mauna Kea which is visible above the bay when not obscured by clouds.
It is one of the most awarded hotels in Hawaii receiving such recognition as the American Institute of Architects' (AIA) Honor Award in 1967 citing the hotel's "restrained detailing and fine spacial sequences." In 2007, the hotel received honors again from the AIA as it made the top 150 of its "America's Favorite Architecture" list.
The Mauna Kea Beach Hotel features a modern architecture with open-air design, allowing natural ventilation from the trade winds. It officially opened in July 1965 and is considered as one of the most expensive at the time. Hotels with similar designs would be built along the Kohala coast over the next decades.
Structural damage caused by the 2006 Hawaii earthquake prompted the hotel to  close down.  In December 2008, however, it reopened after a $150 million renovation.
Address 62-100 Mauna Kea Beach Drive, Kohala Coast, Big Island - Hawaii
Website www.princeresortshawaii.com