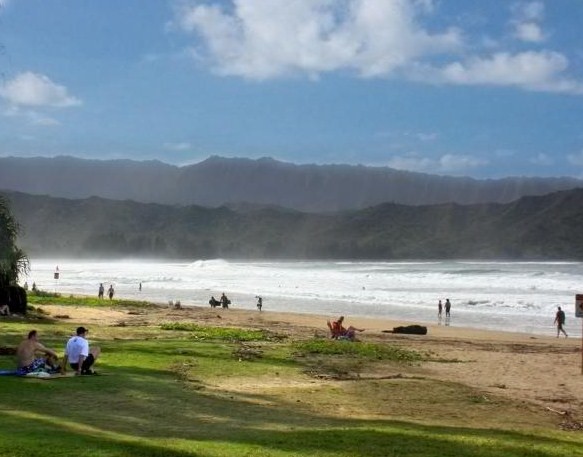 Waioli Beach Park is a 6.41-acre beach park located on the western edge of Hanalei town and in the middle of Hanelei Bay in Kauai County, Hawaii. It is locally known as the Pine Trees beach, in reference to the numerous ironwood pines that line the back of the beach.
The beach is a popular surfing destination among locals. It is home to the annual Pine Tree Classic, a surfing competion open to beginners. This is also where World Champion surfers Bruce and Andy Irons grew up and honed their surfing skills. A large ironwood tree facing the ocean serves as a memorial for Andy who passed away in 2010.
Apart from riding waves or watching the experts have fun in the water, Waioli Beach Park also offers expansive grassy lawns and sandy beach with spectacular views of the bay, making it an ideal spot for beach combing, picnics and sun bathing.
Water conditions are unpredictable in this area and strong waves might be dangerous for inexperienced swimmers and surfers. To be safe, check in with the lifeguards at their outpost on the beach front before venturing into the ocean.
Other park amenities include two beach volleyball courts, restrooms, showers, picnic tables, benches and parking area.
How to get there:
Kuhio Highway/HI-route 56 West, while exiting Hanalei town look for the green church and local school on left, then make a right onto Ahea Road which is 100 yards past the school. Take Ahea Road to the ocean front and look for a parking lot.
Save