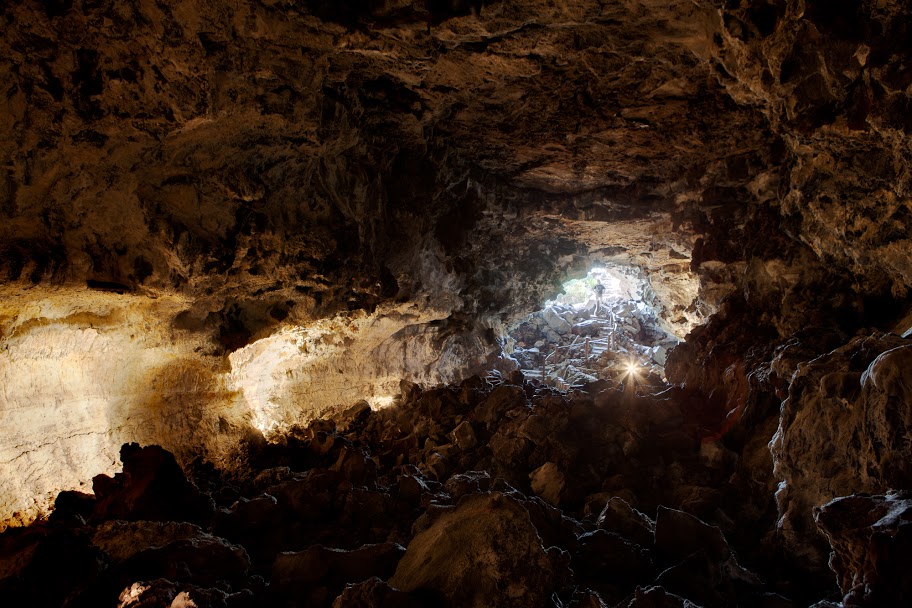 Kula Kai Caverns is a subterranean lava tube system located in Ocean View, on the lower slopes of Mauna Loa near the far southern tip of the Big Island of Hawaii.  The caverns were formed thousand of years ago as lava from the nearby volcano made its way up to the surface, leaving behind the labyrinthine underground tunnels.
The miles-long interconnecting lava tubes range from wide massive corridors to downright narrow openings that require crawling on all fours to navigate. A variety of guided tours are available led experienced and knowledgeable guides providing interesting tidbits about the lava tube system, the science behind its formation and how ancient Hawaiians used the caverns.
The caverns provide visitors a first hand look at the amazing volcanic formations including lava shelves, lava pillars and lavacicles. These formations were created when flowing lava on the cavern's ceiling solidified before they could drop. Unlike limestone stalactites, which may take up to thousands of years to form, lava formations happens very quickly in only a matter of hours, days, or weeks.
There are four basic caving tours available: the Walking Tour ($12/Adult; $6.00/Child ), the Spelunking Tour ($45/person), the Maelstrom Cave Tour ($65/person), and the Goat Cave Tour ($45.00/person; $75.00 for 2-3 persons ). These tours vary in length and level of difficulty as well as in the maximum number of allowed participants. Helmets, lights, gloves, and knee pads are all included. Visitors are advised to wear sturdy shoes for caving.
All tours are by reservation only, visit kulakaicaverns.com for contact details. Only visitors with access code are allowed entry. The Kula Kai Caverns is located at 92-8864 Lauhala Drive, Ocean View, Big Island of Hawaii.