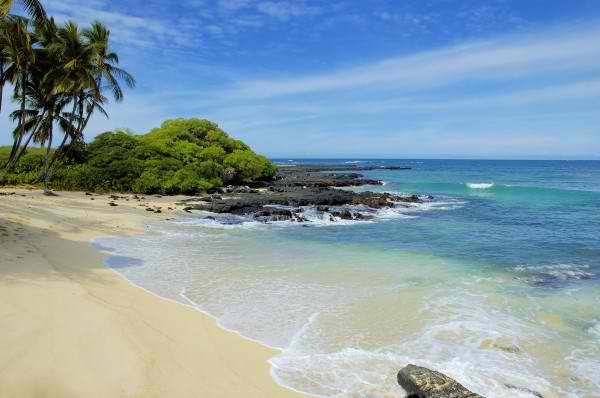 Kekaha Kai Beach Park is a state park, formerly known as Kona Coast State Park.  It is located along the North Kona coast on the island of Hawaii. It covers an area of 12 acres which includes Mahai'ula Beach, Makalawena Beach and Kua Bay or Manini'owali Beach. Ke kaha kai means "the shore line" in the Hawaiian language.
The beaches of Kekaha Kai Beach Park boast of the whitest sand in the Kailua-Kona area. However, the beaches are not the most accessible in the island as getting there involves a few minutes of hiking or driving a 4x4 on difficult to maneuver and unpaved road.
But all your efforts will be rewarded once you reached the series of beaches. Mahaiula beach's spectacular views, soft white sand and crystal clear water will greet you at the end of the trail from the parking lot. There are lots of trees offering shade from the sun in this beautiful beach.
Walking a little bit more (about 15 minutes) and you'll reach Makalawena Beach, dubbed by the locals as "the most beautiful beach on the island." The beach is formed from two crescent shaped shoreline covered in white powdery sand. Behind the Makalawena beach is a wetland area listed as a National Natural Landmark known as Ōpae'ula Pond (Hawaiian for "red shrimp"), and was the site of an old fishing village. It is also an important habitat for endemic birds.
Farther north of the park is Makalawena Beach, more commonly called Kua Bay since it is easier to pronounce. Just like the two previous beaches, Kua Bay has fine white sand and black lava rock formations.
While the waters of the beaches of Kekaha Kai Beach Park are generally calm and idyllic, there are instances when water condition is dangerous because of massive waves and strong rip currents.  There are no lifeguards in these beaches so take extreme caution when entering the water.
The park is open from 9:00 am to 7:00 pm daily except Wednesdays. A paved road 2.6 mi (4.2 km) North of Kona International Airport leads to Manini'owali (Kua Bay), and an unpaved lava road leads to Mahai'ula. A 4.5 mi (7.2 km) hike north on the historic Ala Kahakai trail connects Mahai'ula and Kua Bay.
Kekaha Kai Beach Park - Kailua-Kona, Hawaii Photos