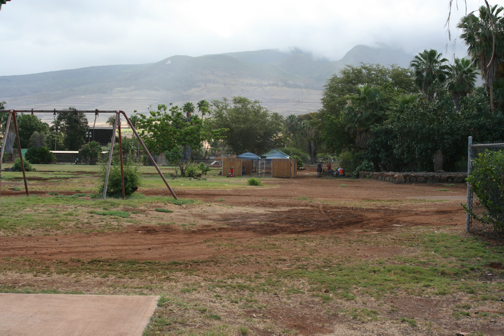 Malu'ulu'olele Park is a 14-acre county park located in Lahaina, Hawaii. It features basketball courts, baseball fields and tennis courts but the site is more notable for its historic past as a former royal residence known as Moku'ula.
Moku'ula was actually a small island surrounded by the Mokuhinia pond where the royal family resided when Lahaina was the capital of the Hawaiian Kingdom under Kamehameha I. According to an ancient legend, the dragon goddess Kihawahine lived on the pond and guarded the royal family.
When Kamehameha I died, his then 10-year-old son, Prince Kauikeaolui, ascended the throne as King Kamehameha III and remained in Moku'ula with the love of his life, his own sister, Princess Nahienaena. While incest was acceptable to Hawaiian nobles in order to preserve the royal bloodline, it was frowned upon by the Christian missionaries. Torn between love for her brother and embracing the Christian faith, Nahienaena grew despondent and died at the age of 21.
King Kamehameha III became the longest-reigning Hawaiian monarch in history (29 years) and presided over Hawaii as it went from kingdom to constitutional monarchy. After his death in 1854, the royal residence in Moku'ula fell into disrepair.
In 1918, in the name of progress, the sacred pond was drained and filled with tons of soil while the royal residence, musoleum and other artifacts in the compound were leveled to the ground to develop the area as a public park.
On August 29, 1994, the site was added to the Hawaii State Register of Historic Places on and to the National Register of Historic Places on May 9, 1997 as King Kamehameha III's Royal Residential Complex. Many Hawaiians still consider it a sacred site and efforts are underway to revive it to its former glory.
Malu'ulu'olele Park is located at Front and Shaw Streets, in Lahaina, Hawaii.
Save