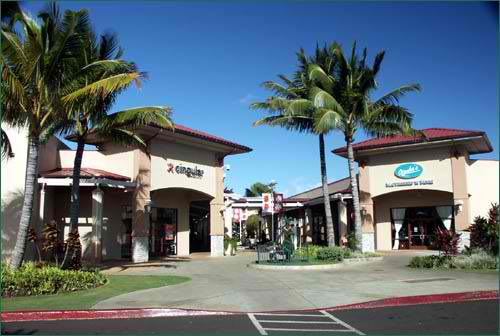 Kukui Grove Center is an open air shopping complex located in Lihue, Kauai, Hawaii, with the picturesque Ha'upu mountain range as the backdrop. It is one of the largest retail centers and the only regional mall in the Garden Isle. It houses over 55 shops and restaurants including well-known establishments such as Macy's, Sears, Kmart, Times Supermarkets, and Longs Drugs.
The mall is located just off Kaumualii Hwy in Lihue, making it easily accessible to locals looking for apparel, accessories and shoes, as well as tourists in search of daily necessities like bath items, swimwear or place to dine in.
There are also banks, a UPS Store, a movie theater, ATM machines, pay telephones and free wireless Internet access.
Kukui Grove Center also hosts regular events such as Monday Markets, a farmers market usually held at the Kmart parking; Toddler Thurdays which features activities for young childrem; and Aloha Fridays, a live musical show at the mall's Center Stage featuring local artists.
The mall is located at 3-2600 Kaumualii Hwy, Lihue, and is just a few minutes away from the Lihue Airport and the town of Poipu. Opening hours are as follows:
Monday - Thursday, 9:30 am - 7 pm
Friday, 9:30 am - 9 pm
Saturday, 9:30 am - 7 pm
Sunday, 10 am - 6pm