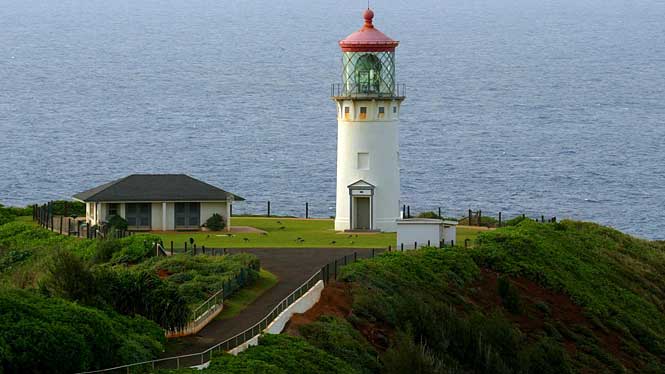 A 203-acre natural reserve on Kauai's north shore, Kilauea Point National Wildlife Refuge is home to Hawaii's endemic wildlife including the Pacific golden plover, Laysan albatross, and the nene goose, Hawaii's State Bird. During winter months, humpback whales can be seen just off the shore as well as Hawaiian monk seals, green turtles and spinner dolphins.
Another attraction in the area is the 52-foot Kilauea Lighthouse which was built in 1913. The original tower with its clamshell lens (the largest of its kind in the world) is still intact but no longer in use.  Instead,  a low-maintenance and more efficient light beacon is now in operation . Because of its historical significance, the lighthouse was listed on the National Register of Historic Places.
The majestic lighthouse and the spectacular views of the Pacific Ocean make perfect backdrop for souvenir photos. The lighthouse also houses a museum. Beside the structure is a visitor center where tourists can buy souvenir items and check out exhibits featuring the birds, native plants and marine animals that reside within Hawaii's National Wildlife Refuges.
Kilauea Point National Wildlife Refuge was established in 1985 to serve as a sanctuary and preserve seabird nesting colonies after the property was transferred from the United States Coast Guard. In 1988, the refuge was expanded to include Crater Hill and Mōkōlea Point.
Kilauea Point National Wildlife Refuge Photo Gallery