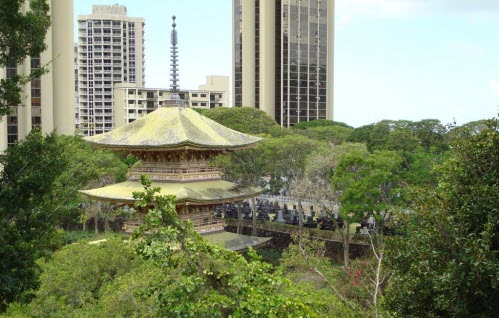 Constructed between 1964 and 1966 in the Kyoto Gardens of Honolulu Memorial Park, the Sanju Pagoda is dubbed as the largest pagoda in the world. It is 1-1/2 times larger than the Minami Hoke-ji Temple in Nara, Japan to which it was modeled after.
The historic pagoda, along with the neighboring Kinkaku-ji Temple, are some of the finest examples of traditional Japanese architecture in Hawaii. Instead of wood which is traditionally used to build this type of structure, the Sanju Pagoda was made from reinforced concrete to allow it to be used as a columbarium. Standing 116 feet from base to top of spire, the three-tiered pagoda is one of the most eye-catching landmarks in the area.
Unfortunately, the Sanju Pagoda is now closed to the public due to its dire condition. The structure has fallen into disrepair when the memorial park fell into financial difficulties in the early 2000s. In 2004, the pagoda was listed on the National Register of Historic Places.
Concerned plot owners were able to save the pagoda from demolition but funds have yet to be raised for the restoration of the historic building.
Despite its sad state, the pagoda is still a sight to behold so enjoy this beautiful view while this magnificent structure is still standing.
Sanju Pagoda in Honolulu Memorial Park is located at 22 Craigside Place, Honolulu, Hawaii.
Save