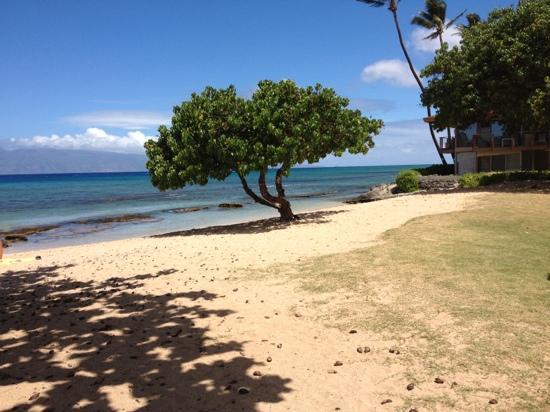 Honokowai Beach is a very popular white sand beach in Maui, Hawaii. Because of its location and amazing scenery, many condominium developments, hotels and resorts were developed in the area particularly the beachfront. It's located right next to the Aston Paki Maui Resort and across from the Lahuiokalani Chapel.
Honokowai means "bay for drawing water." According to folklore, there used to be freshwater springs at the water's edge. The beach was also said to have been a canoe landing.
Some areas of Honokowai Beach can get pretty crowded, especially during weekends and the peak season. It is a favorite gathering spot for locals after work. The beach is safe for swimming and snorkeling, although restricted to a shallow pool situated between rocky ledges of reef. No lifeguard on duty.
Some of the beach amenities include recently-upgraded shower rooms, a couple of children's playground, picnic tables, a park with grassy and shaded areas, and barbeque pits. Parking spots are also available. There are shops selling snacks and several great takeout joints offering meals perfect for picnics. Be warned that alcohol is not permitted at this beach park.
While relatively safe for water activities, it is still advised to be completely aware of the ocean conditions prior to entering the water to avoid accidents. Be warned that just like other Hawaiian waters, this beach can be frequented by sharks, jellyfish and other sea creatures which can provide potential harm to people entering the water.
Honokowai Beach Photo Gallery