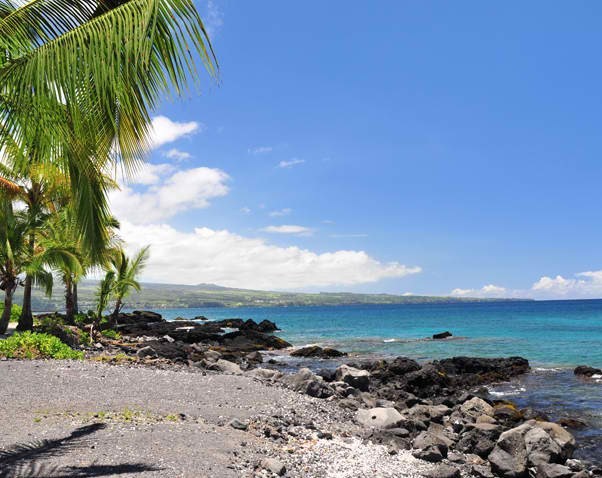 Keaukaha Beach Park is one of the most popular swimming and snorkeling sites in Hilo, on the east shore of the Big Island of Hawaii. The beach is protected by an offshore reef, which keeps the water calm and ideal for water activities such as swimming and snorkeling. Caution is advised, though, as the beach has a lava rock shoreline.
The cracks and crevices on the rocky ocean bottom provide excellent hiding spots for fish and marine creatures, ensuring hours of snorkeling fun! Several freshwater springs bubble up from the ocean bottom, making the water temperature in some areas a bit chilly.
There is no stretch of sand here, only a few patches of sand and pebbles. A large grassy area offers perfect spot picnics or laying around to soak some sun. Some trees provide shade.
Keaukaha Beach Park tend to be crowded with locals during weekends but can be all to yourself the rest of the week.
Facilities include parking, restrooms, picnic tables and shower. No lifeguards on duty.
To get there, drive east on Kalanianaole Avenue from downtown Hilo. The beach is just past Kuhi'o Street. There are numeous signs along the way.
Save