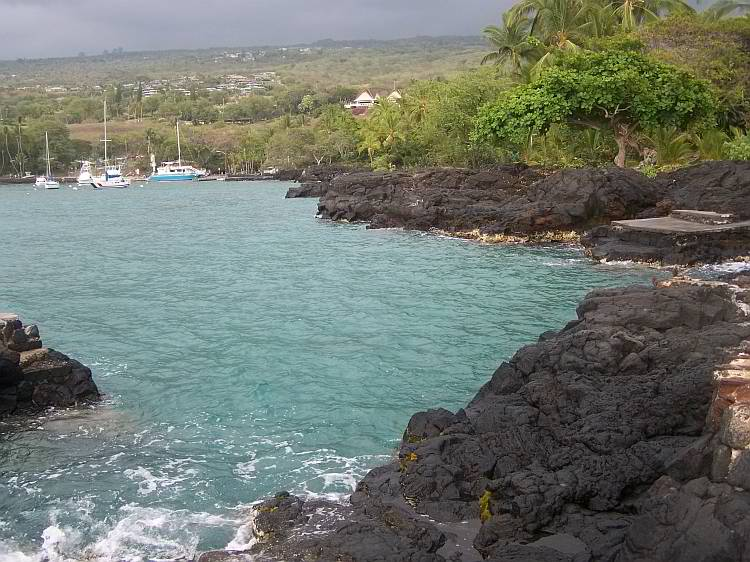 Keauhou Bay is one of the Big Island's most popular cultural destinations. It's name is derived from ke au hou which means "the new era" in the Hawaiian Language. It is a historically significant area in the Kona District because it is the birthplace of King Kamehameha III, the longest reigning monarch in the Kingdom of Hawaii.
A plaque on a rock marks the spot believed to have been the royal birthplace of Kamehameha III. According to legends, the young prince was said to have been stillborn and brought back to life by the sacred chant of a visiting kahuna (priest).  The monument, which is owned and maintained by the Daughters of Hawaii, was listed to the Register of Historic Places in 1978.
Another historical site in the area is the Keauhou Holua Slide built under Kamehameha I. Situated on the hills above the bay, the holua originally extended into He'eia Cove on the northern part of the area. The slide is used in an ancient Hawaiian sport reserved only for the royals.
Players of the dangerous sports use long and narrow sleds, called papa holua, to glide down the Keauhou Holua Slide either laid down on their stomachs or standing up like on a surf board. The slide ends in the ocean at Keauhou Bay and is said to be the longest and most dangerous holua slide in all the islands.
The clear and calm waters of Keauhou Bay is perfect for for swimming, snorkeling, scuba diving and kayaking. Apart from colorful tropical fishes, the waters of the bay is teeming with a wide array of marine life including manta rays and honu or Hawaiian green sea turtles.
The area also has a small grassy area and picnic tables shaded shaded by palm trees. Other facilities include showers, rest rooms and beach volleyball courts.
Nearby hotes include Sheraton Kona Resort & Spa at Keauhou Bay and the Outrigger Kanaloa at Kona, Keauhou Resort. There are shacks offering diving and snorkeling equipment as well as kayaks for rent. To get to Keauhou Bay, turn seaward off Ali'i Drive onto Kamehameha III Road.
Photo credit: shorediving.com