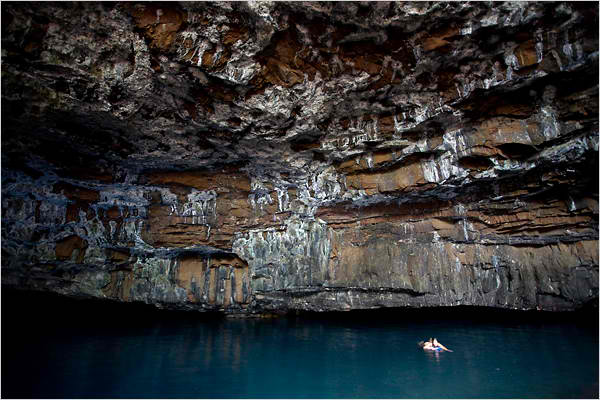 Just before the end of the road on Kauai's North Shore is the Blue Room, a wet cave filled with cool clear water and filtered sunlight that cast an eery blue hue inside the cave. It is one of the island's many unusual geological marvels and reminds one of the more popular Blue Grotto in Capri, Italy.
But Kauai's Blue Room has its own charm and appeal. Indescribable awe and a sense of tranquility instantly consumes you once you enter the cave. It's beauty is unparallelled, like a gem nesting on lush green mountains on one side and golden sands and deep blue ocean on the other.
According to the locals, the room is not as blue as it once was. Many years ago, filtered sunlight casts a deeper blue color on the water and fills the walls and ceiling of the cave. The water level in the cave was also higher during those times but it has lowered significantly through the years.
A no swimming sign do not seem to have prevented many adventure seekers to take to the water and enjoy its refreshing coolness. There is no dangerous current and the pool is relatively safe for swimming. The sign probably serves as a warning against the possibility of the fresh water from being infected with bacteria. Just avoid drinking water from the pool and you will be alright.
To get to the cave entrance, park in the lot on the ocean side of the highway just before the end of the road at Ke'e. On the mountain side, look for a short trail leading up to the wet cave. A slippery slope takes you down to the wet cave entrance, so watch your footing and wear appropriate footwear.
Blue Room - Kauai, Hawaii