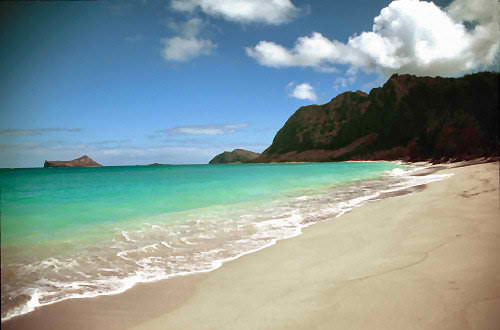 Waimanalo Beach is one of the most beautiful beaches in Oahu. It also features the longest stretch of sandy shoreline on the island which is over 8 kilometers. To the west of the beach is the small and quiet town of Waimanalo.
There are very little commercial establishments and hotels near the Waimanalo Beach but it remains a popular destination for those who know the existence of this beautiful beach. It is also near some other well-known attractions in Oahu such as the Makapuu Beach and Sea Life Park. If you are looking for accommodations, there are a few cottages and homes for rent in the area.
Waimanalo Beach is perfect for swimming and other water activities including diving, snorkeling, body surfing, boogie boarding. If you're looking for more adventure, you could even try the Oahu zipline. The beach is relatively safe during summer months but strong currents and turbulence are present duringduring the winter months.The sand is fine and soft, ideal for leisurely strolls, picnics or for laying down to soak up some sun. The views, which include the lush mountains of Makapuu and the blue ocean, are also breathtaking.
The beach is also known as the location of the television series Magnum P.I and Baywatch Hawaii.
Facilities include restrooms, showers and shady areas with picnic tables. A reef area is perfect for fishing. There are also lifeguards on duty making the beach safe for families with small children.
Expect huge crowds during weekends, mostly locals. Visitors are advised to watch out for thieves that may take interest in valuables inside cars.
Waimanalo Beach can be reached via Kalanianaole Highway.
Waimanalo Beach in Oahu, Hawaii Photos