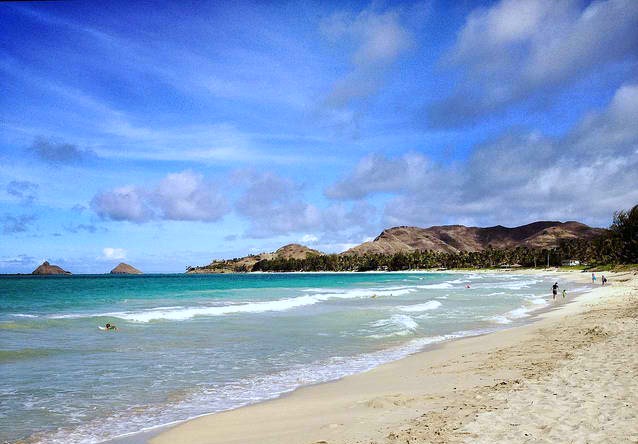 Kalama Beach is a secluded stretch of sand in Kailua Bay.  It is nestled between two more popular beaches, Kailua Beach and Lanikai Beach. Surprisingly, Kalama Beach is less crowded than its two well-known neighbors. Weekends can get a bit busy but still not as congested as the other nearby beaches along Kailua Bay.
Interestingly, King Kamehameha and King Kalakaua were believed to have surfed off this beach. Today, the entire Kailua shoreline is prime real estate on Oahu and home to some of the area's biggest mansions. This can also be a reason why Kalama Beach is not too crowded. Because of the luxury homes in the area, people might have thought the beachfront is private property when in fact it is a public beach park.
Just like the other beaches in Kailua, Kalama Beach boasts of fine white sand and clear calm torquoise water. The gentle waves are safe for swimming and perfect for beginner surfers and body boarders. The strong winds also make the beach excellent for kite and windsurfing.
The beach is clean and have amazing mountain and ocean views, including the spectacular seascape of Mokulua islands. There are also a green patch of grass and lots of shady spots offering an escape from the sun. Beach facilities include restrooms, showers and picnic areas. There are no lifeguards on duty. Parking is available off Kalaheo Avenue.
Watch out for advisories warning visitors about the presence of the Portugese Man-of-War (jellyfish) and stinging limu (seaweed) in the water, especially from June through September.
Kalama Beach is located at 248 N. Kalaheo Ave, Kailua, Oahu, Hawaii.