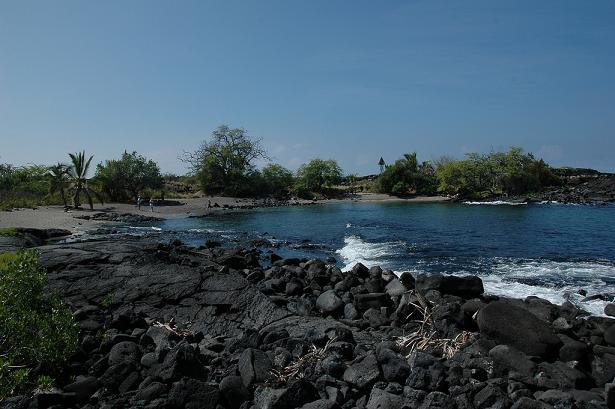 Alula Beach is a secluded cove with a small white-sand beach with some rocky areas located south of Honokohau Boat Harbor. It is a popular snorkeling destination and a safe swimming spot. The area is fairly well protected providing visitors with calm waters most of the year. The beach is also a popular take-off point for offshore divers and snorkelers to the dive site called Manta Ray Bay.
Just offshore are dark boulders and rock walls that plunge 45 feet into the water. This serves as a natural shelter for the wide variety of colorful fishes and marine creatures that inhabit the cove. These walls also shield the water from the tides, making it safe for swimmers and paddlers.
The beach is part of the 1160-acre (4.7 sq. km) Kalolo-Honokohau National Historic Park. This preserve is not only dedicated to the preservation of nature but also to the numerous cultural and historical artifacts in the area such as old stone houses, a heiau (ancient Hawaiian temple) and other small beaches. Many visitors explore these attractions first before settling on the beach.
Except for restrooms at the harbor, there are no other facilities and lifeguards in the beach.
Alula Beach is located at Kealakehe Pkwy in Kailua Kona. From Kona, drive north on Highway 19. Make a left turn on Harbor Road between Mile Marker #97 and 98. Drive to the south parking lot of the harbor and park. Walk the short distance south to the beach.