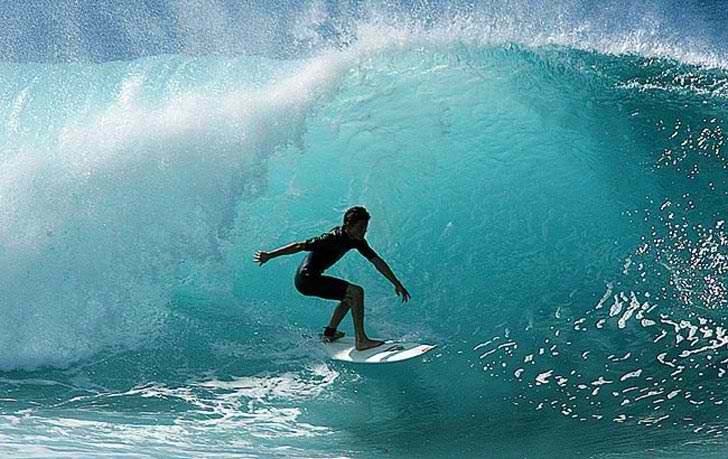 Ehukai Beach Park is a 1.2-acre beach park in Pupukea on the northern shroe of Oahu. It can be reached via the Ke Nui Road and serves as the public access point to one of the world's most famous surf sites, the Banzai Pipeline.
Massive crowds flock to this beach during the winter surf season to see the Pipeline and the individuals brave enough to ride its dangerous waves that can reach up to 30 feet. During winter, only seasoned and expert surfers should take to the water. Those who are just beginning to take the sports should come during summer months when the water is much calmer and safer. 
The Pipeline was named in December 1961 when California surfing movie producer Bruce Brown was driving around the North Shore looking for filming opportunities with two California surfers, Phil Edwards and Mike Diffenderfer. They stopped at the then-unnamed site where Brown filmed Edwards catching several waves. After Edwards returned to the beach, the three of them decided to come up with an appropriate name.
Coincidentally, a construction project for the repair of an underground pipeline was in progress on Kamehameha Highway. As they drove by, Diffenderfer looked into the open trench and suggested that they name the surf site the Pipeline. They all agreed, and in 1961 Brown introduced the name to the world in his fourth surfing movie, Surfing Hollow Days. At that time the beach fronting the Pipeline was known as Banzai Beach, which resulted in the compound name, Banzai Pipeline.
The beach park is equipped with picnic facilities, restrooms and showers. It is also a nice place to soak up the sun but there are also some shady areas for relaxing. There is also a sandbar that offers good swimming during spring and summer. Lifeguards are on duty but visitors are advised to be cautious when venturing into the ocean.