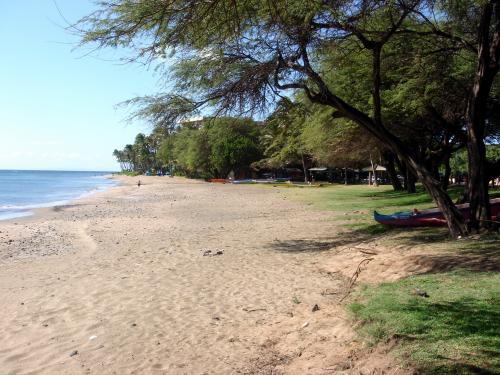 Hanakao'o Beach Park is a stretch of sandy beach just south of the Ka'anapali Beach Resort Complex on Maui's west shores. Hanakao'o means the "digging stick bay," but the origin of the name is now unknown. It is also a launching point for Hawaiians and their canoes, hence its nickname, Canoe Beach.
The beach was used to be called by locals as Sand Box Beach in reference to a rock crusher that used to be in the area in the early 1900s. The rock crusher had several large storage bins to hold the crushed material as well as a box for sand. The sand box was kept filled with beach sand, which was bagged as needed for various construction projects. The rock crusher ceased operations in the 1920s but the sand box remained on the beach for many years, giving the beach its once-popular name.
Hanakao'o Beach Park is known for its mile-long sandy beach with spectacular views of the Pacific Ocean and Lanai and Molokai islands. The calm water is ideal for swimming and and safe for young kids. There are also opportunities for snorkeling, scuba diving, jet skiing and canoeing. The offshore break attracts body-surfers and bodyboarders.
Facilities in the park include picnic pavilions, restrooms, showers, paved parking, and a canoe storage shed for the outrigger canoe clubs who use the park as a practice site. Lifeguards are on duty from 7am to 8pm daily. The beach is usually deserted on weekdays but can get quite crowded during weekends.
To get there, take Highway 30 to Mile Marker #23. There is a parking lot between this mile marker and the next. Beach access is via the parking lot.
Save