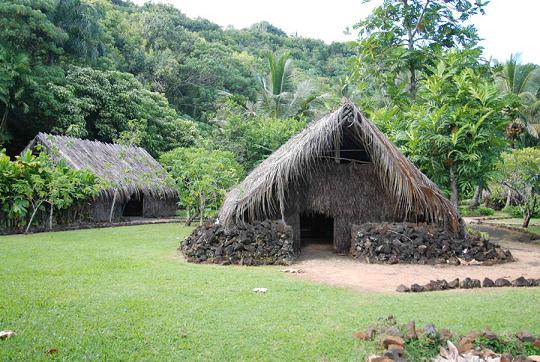 Kamokila Hawaiian Village is a 4-acre historical and cultural park located in Wailua, West Kauai, Hawaii. Situated along the Wailua River, the park features a recreation of an ancient Hawaiian traditional village.
The site is said to be one of King Kaumualii's, the last reigning king of Kauai, favorite places.  According to legends, the king assembled and hid his war canoes by the bend of the Wailua River.
The village contains replicas of pre-contact Hawaiian structures reconstructed using traditional methods and techniques. The numerous thatched-roof huts were recreated to represent the specific function of each structure in the ancient Hawaiian culture and society. These structures include a canoe house, a birthing house, the chief's assembly house and a doctor's house.
There is also a courtyard showcasing traditional Hawaiian games such as Spear Throwing and Hawaiian Bowling, which were both considered to be essential for skill building. Lush gardens of guava, mango, banana and other traditional Hawaiian fruit-bearing trees and flowers grow around the village.
These and other other artifacts such as medicine rocks, birthing stones, bell stones, and petroglyphs, discovered in the site provide visitors a glimpse of how Hawaiians lived during ancient times.
Apart from self-guided tours of the village, visitors can also enjoy outrigger canoe tours along the Wailua River going to other nearby attractions such as the Fern Grotto and Secret Waterfalls.
In 1995, the Kamokila Hawaiian Village was used as the location for the Hollywood film "Outbreak" starring Dustin Hoffman and Rene Russo. Some of set from the movie were left in the village and have become some of the site's popular attractions.
The village is located at 5443 Kuamoo Rd. in Kapaa, West Kauai, Hawaii. It is about 2 miles west of Wailua Town, turn right on Kuamoo Road before the Wailua River bridge. It is open daily from 9am to 5pm. Admission fees are $5 for adults and $3 for children (3-12 years old).
Save