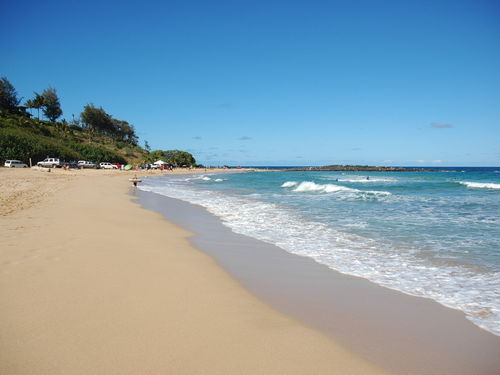 Kealia Beach is a 150-foot wide, 1/2 mile long beach with fine white sand located North of Kapaa Beach in Kauai, Hawaii. It is a popular destination among surfers and boogie boarders.
The name Kealia, which means "the salt bed" or "the salt-encrusted area" came from the fact that the area was used by ancient Hawaiians to gather salt for domestic, medicinal, and ceremonial needs.
The beach lies between two rocky points. Surf breaks on the beach throughout year, attracting a constant flow of surfers and bodyboarders, particularly the north end where the best waves are usually found.
Also at the north eand of the beach is a small jetty which offers swimmers some protection from the surf. The jetty is all that remains of the former Kealia Landing which was used to transport sugar cane to other islands via steamers.
In winter months, however, high surf and nearshore rip currents in this beach are very powerful and dangerous. Always check on ocean conditions before entering the water especially during such periods.
The beach is easily accessible from Kuhio Highway. There are no lifeguards and facilities in this beach.
Save