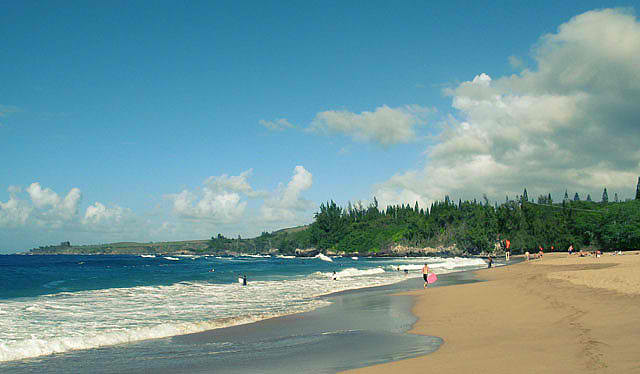 DT Fleming Beach Park is a small beach park at Honokahua Bay in Kapalua, West Maui. It was named in honor of David Thomas Fleming, dubbed as the man who introduced pineapple to West Maui.
The beach is known for its beautiful stretch of golden sand and clear blue waters. At the back of the beach are lush ironwood trees that provide shade from the sun. Tables and benches under the shade make perfect spots for picnics and relaxation.
The beach park is also much less developed than other Maui destinations such as Ka'anapali Beach, which adds to its charm. Nearby is the world-class Kapalua Resort and the Ritz Carlton.
While the water is usually calm during the mornings, caution is still advised when taking into the waters due to the steep slope of the beach that causes a backwash. There are also instances when water conditions can become dangerous due to high surf with strong rip currents and powerful waves.
The area also tends to be windy during the afternoons, perfect for kite boarding and wind surfing. While preferred by seasoned surfers and boogie boarders, these conditions might be dangerous for individuals who are just beginning to take on the sport. Always obey lifeguards and watch out for posted warnings.
Beach park amenities include lifeguards, barbecue grills, picnic tables, showers, restrooms and parking.
How to get to the DT Fleming Beach Park - Look for mile marker #31.1 along Highway 30 (Honoapiilani Highway) turn on Lower Honoapiilani Rd. to parking at end.