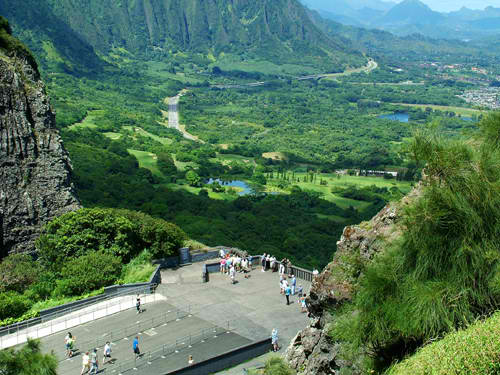 The Nuuanu Pali Lookout is a popular tourist attraction in Oahu, Hawaii, only five miles from downtown Honolulu. It is a viewing platform located at the Nuuanu Pali State Park, perched over a thousand feet above the Oahu coastline and offering commanding views of the Koolau cliffs and lush Windward Coast including Kaneohe Bay, Mokolii Island (Chinaman's Hat), Coconut Island, Hawaii Pacific's Windward Campus, Kaneohe Marine Corps Base and the Hoomaluhia Botanical Garden.
Nuuanu Pali means "Cool Height Cliff" in Hawaiian. The site is also known for its strong and howling winds. The trade winds blow through the valley between the high mountains on either side, forming a natural wind tunnel. Be sure to wear a jacket and secure hats, scarves or anything else that may be blown away by the winds.
Apart from the beautiful views and gusty winds, the lookout is also an historic site. This is where the Battle of Nuuanu took place in 1795, when Kamehameha I conquered the island of Oahu, bringing it under his rule. It was one of the bloodiest battles in Hawaiian history, where the defenders of Oahu, led by Kalanikūpule, were driven off the edge of the cliff to their deaths 1,000 feet below.
After more than a hundred years, an estimated 800 human skulls where discovered at the foot of the cliffs when the Old Pali Road was constructed in 1897. The remains were believed to be those of the fallen warriors of Oahu.
The Nuuanu Pali Lookout is open daily from 9 a.m. to 4 p.m. Admission is free, and there is ample free parking. To get there, take the H1 freeway (eastbound) from Waikiki, then take the Pali Highway, Route 61 via Nuuanu Pali Drive. Follow the signs to the lookout.
Save