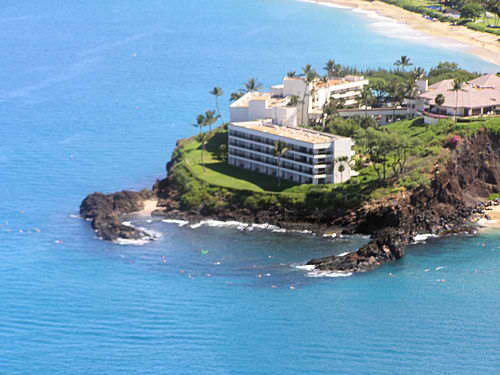 Black Rock, or Pu'u Keka'a, is a large lava rock outcropping that juts out of the Ka'anapali Beach on Maui's west shore. In fact, it divides the popular Maui beach in half. On top of Black Rock is the Sheraton Maui Resort.
The rock has become a popular Hawaiian landmark because of its picturesque views, calm waters and the legends that surround it. According to local lore, Pu'u Keka'a is where the spirits of fallen Hawaiian warriors leave the earth by leaping from this rock to meet their ancestors.
The area around Black Rock is a popular swimming and snorkeling spot. The southern side of the rock offers a huge expanse of golden sand beach. This beach is usually crowded because it is easily accessible.
The water in this beach is generally calm most of the year making it a perfect destination for swimming, snorkeling and other water activities like windsurfing, jet-skiing, parasailing, and kayaking. Another popular activity on this area is cliff jumping. However, there is not much to see in these part of the beach in terms of marine life.
A more exciting spot for snorkeling would be the horseshoe-shaped cove on the rock's open ocean-facing side. The area is much harder and riskier to get to but well worth the effort for its breathtaking underwater beauty. The cove is teeming with colorful fish, corals and even sea turtles. Caution is advised when swimming in this area. Only swim here when the water is calm as strong currents and surges can be dangerous during rough ocean conditions.
Apart from the Sheraton, there are a host of other posh resort hotels and shops in the area. The Whalers Village Shopping Mall is also nearby, a great place to park your car (for a fee) if you are not staying in any of the resorts in the area.