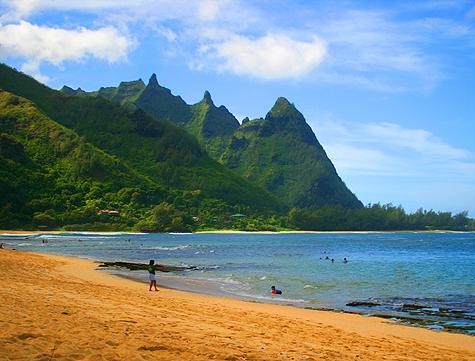 Tunnels Beach, located on Haena Point on Kauai's north shore, is considered as one of the finest beaches of the area. The picture-perfect beach stretches for two-miles (3.2 km) and features golden fine sand. Ironwood trees and tropical palms provide shade and are ideal for beach-side picnics.
Despite beachrocks peppering the shoreline, Tunnel beach remains a popular destination for both foreign and local beachcombers especially during the summer months when the ocean is calm.
The beach is unique for having an inner shallow reef and an outer reef featuring lava tubes, arches and coral formations. The beach got its name from the numerous arches and tunnels found on the reef.
The half-moon shaped inner reef provide a safe spot for kids to swim and play in the water. It is also ideal for novice snorkelers. The outer reef is best suited for more advanced divers and snorkelers. Aside from the amazing lava tubes, arches and coral formations, the reef teems with rich marine life including white-tipped sharks.
During the winter months or times of high surfing in Hawaii, the water conditions are hazardous at Tunnels Beach and swimming and snorkeling are very dangerous.
Tunnels Beach Photo Gallery