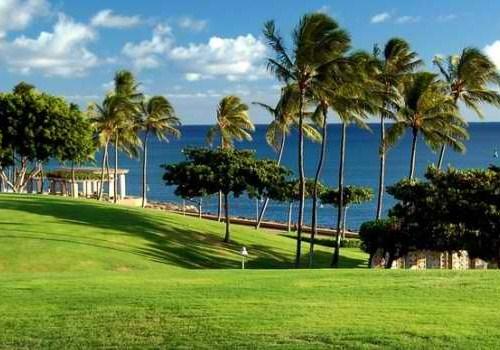 Kakaako Waterfront Park, also known as "Point Panic Park", is a 35-acre public park with grassy rolling hills and a oceanfront promenade. It is located south of downtown Honolulu, just off Ala Moana Boulevard at the end of Cooke Street.
Opened in November 1992, the site used to be municipal landfill and now provides locals and visitors a quiet respite from busy Honolulu and a far less crowded alternative to the nearby Ala Moana Beach Park. Apart from the a rolling grassy lawn, the park features a 20-foot wide promenade stretching along the entire length of the park's ocean side.
A community amphitheater serves as a venue for concerts and events while a central mound provides 360-degree panoramic view of the ocean, Waikiki and Diamond Head.
There is no sandy beach at this location but a concrete stairs provide access to "Point Panic" and "Flies", two popular spots for surfers and board riders. The park has bathrooms, water fountains, free parking, picnic tables, pay telephones, and  paved jogging paths.
The park is home to several sculptures including Lahui, a silicon bronze sheet sculpture by Sean K. L. Browne; Ano Lani, a bronze sculpture by Frank Sheriff; Mothers Against Drunk Driving (MADD) Victim Memorial; and a monument to the victims of the Ehime Maru and USS Greeneville collision.
Kakaako Waterfront Park is located at 677 Ala Moana Blvd., Kakaako, Honolulu and is open daily, from Daily 7am to 7pm. The park is managed by the Hawaii Community Development Corporation.
Save