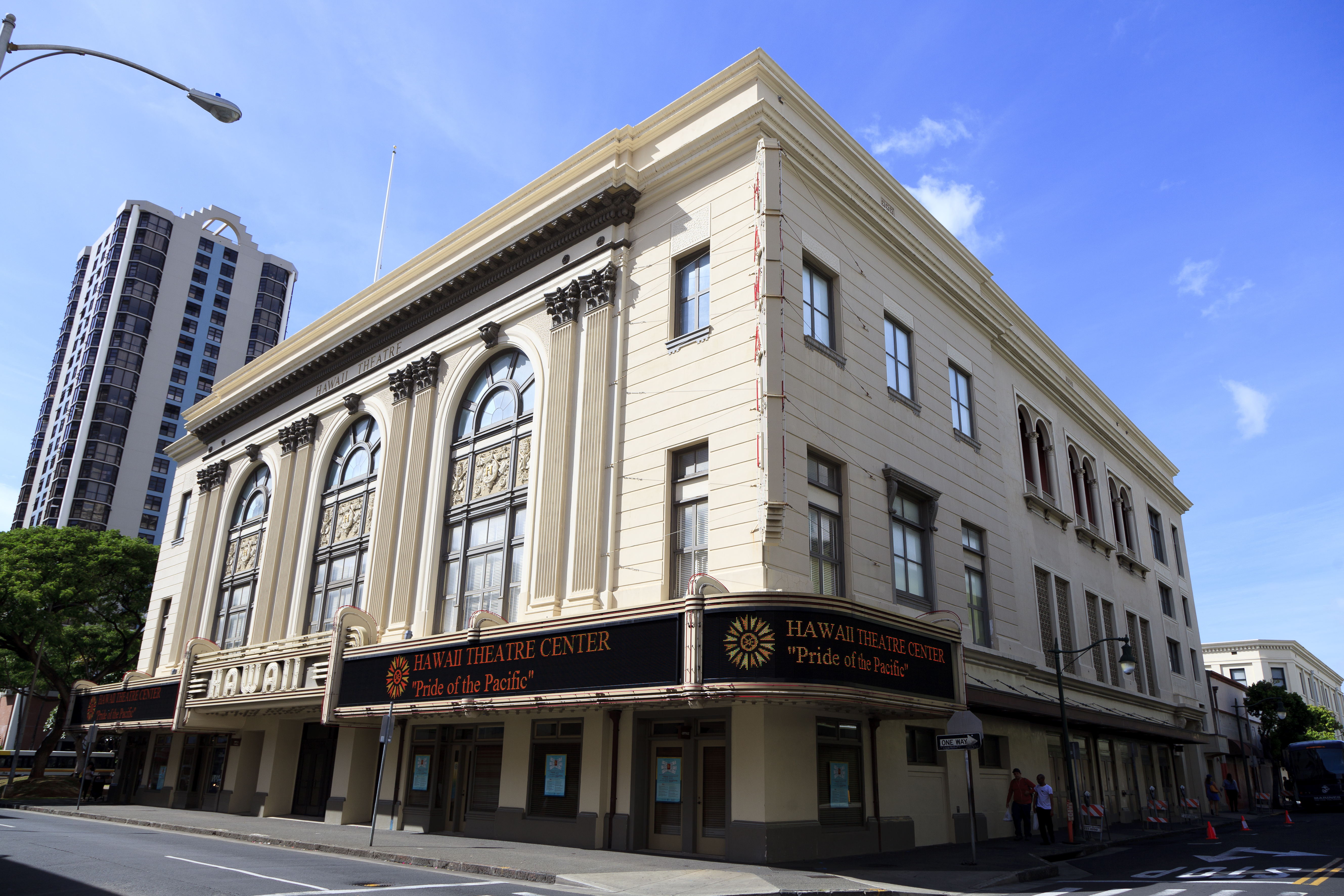 The Hawaii Theatre is a historic performing arts venue in downtown Honolulu. It was first opened to the public in 1922 by the Consolidated Amusement Company as a Vaudeville theatre and cinema. It is listed on the State and National Register of Historic Places.
Designed by Honolulu architects Walter Emory and Marshall Webb, Hawaii Theatre features Neoclassical architectural style on its exteriors, with a combination of Byzantine, Corinthian, and Moorish ornamentation. Inside, the theater is decorated with Beaux-Arts architectural elements such as Corinthian columns, a gilded dome, marble statuary, plush carpets, silk hangings, and a Lionel Walden mural on the proscenium.
The theater also employs an innovative cooling system that allowed air from an ice storage room under the stage to flow through vents beneath the seats. Its neon marquee was considered as the largest ever built in Honolulu. It was one of the most beautiful and opulent buildings in Honolulu when it first opened to the public and was dubbed "The Pride of the Pacific" by local newspapers.
In the 1960's the theater operated as a deluxe cinema until it fell into disrepair in the 1980s. It finally closed in 1984.
In 1986, a group of concerned citizens formed the Hawaii Theatre Center, a non-profit organization aimed at restoring and preserving the famed theater. The organization bought the Hawaii Theatre, as well as other adjacent buildings and raised funds for the renovation of its interiors in 1994. The extensive renovation was handled by the Hardy Holzman Pfeiffer firm of New York City, which included raising and lowering the original pipe organ that used to accompany silent films with a hydraulic lift. The theatre reopened in 1996, while exterior renovations continued through 2005.
The renovations brought the Hawaii Theatre back to life and once again became a popular venue for stage shows and concerts.
The Hawaii Theatre is located at 1130 Bethel Street, between Hotel and Pauahi Streets, in downtown Honolulu at the edge of Chinatown.
Hawaii Theatre in Downtown Honolulu Photos