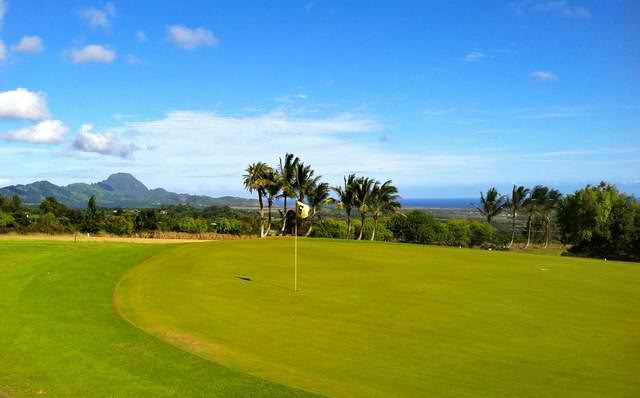 The Kukuiolono Golf Course and Park is a small but beautiful public course and park sitting high on a hill overlooking Poipu in Kalaheo, Kauai. It was originally built as the personal golf course of sugar magnate Walter D. McBryde. The course is considered as the eight oldest golf course in Hawaii. McBryde donated the course and adjacent parcels of land to the state as his gift to the people of Kauai in 1919.
Because of its elevated location, the Kukuiolono Golf Course and Park offers spectacular ocean views and unobstructed vistas of Kauai's mountainous portion. A path leads to a bluff that offers unrivaled views of the South and West shores of Kauai.
The 9-hole golf course is popular among beginners who are just starting with the sport. The fairways are abnormally wide and there are fewer hazards compared to Kauai's other championship courses. It's also one of the most affordable courses on the island. Facilities include a driving range, pro shop, snack shop, walking paths and putting green. Golf clubs and/or golf carts are available for rent at very reasonable rates. Looking for a club? The pro shop could be a good place to start, alternatively, you could also find resources online that can give you the best Golf Club Reviews so you can find the best golf club for you.
Non-golfers will also have fun exploring the park's quaint paths, Japanese garden, footbridge, fountains, statues and a newly built meditation pavilion. Bonsai trees and other lush plantings dot the garden. There is also an area featuring a unique and extensive collection of Hawaiian lava rock artifacts such as the Lono's Spoon, originally the site of an ancient Hawaiian Heiau.
Other historical artifacts in the park is the Hawaiian Salt Making Stone, a massive rock with a flat surface used by the Hawaiians to make salt, and the game stone, a round rock used in a game similar to bowling.
The Kukuiolono Golf Course is located at 854 Puu Road, Kalaheo, Kauai, about 1-mile south on Papalina Road, up hill from the intersection of Highway 50 and Papalina Road. It is ppen daily from 7:00am to 6:00pm.
Kukuiolono Golf Course and Park, Kauai Photos