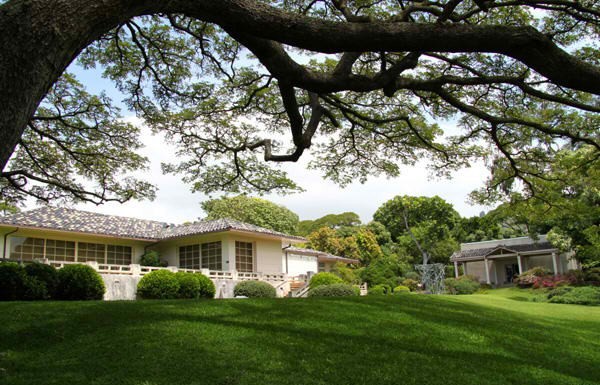 Need some rest from Hawaii's sand, sea and surf? Get some culture by spending a few hours, or even a whole day, at The Contemporary Museum Honolulu in Makiki Heights. This institution is the only museum in the State of Hawaii devoted exclusively to contemporary art.
Nestled in the scenic Makiki Heights and housed within the historic Spalding House, The Contemporary Museum Honolulu features rotating exhibitions of contemporary art including the works of such masters as Josef Albers, Jennifer Bartlett, Jasper Johns, Robert Motherwell, Louise Nevelson, Masami Teraoka, and Andy Warhol.
There are also temporary and traveling exhibitions, one-man and group shows, gallery talks by artists and curators, performances, and daily docent tours. The well-preserved Spalding House has about 5,000 square feet of gallery space. It also has a museum shop, cafe, administrative offices, storage areas, and a director residence.
An attraction in itself is the museum's sprawling gardens peppered with contemporary sculptures and art installations. The area's elevated location offers spectacular views of Diamond Head and the city of Honolulu.
The gardens were originally landscaped between 1928 and 1941 as a Japanese stroll garden by Reverend K. H. Inagaki. Kahaluu-based landscape architect Leland Miyano brought the gardens to their current state. Aside from sprawling lawns, there are reflecting pools, walking paths, and places to sit.
The museum is open from Tuesday to Saturday (10am – 4pm) and Sunday (noon – 4pm). Admission fee is $5 for adults and $3 for Seniors and Students w/ valid ID. Children 12 and under are free of charge. Admission is free every third Thursday of the month.
The Contemporary Museum also has a branch in the corporate headquarters of First Hawaiian Bank in downtown Honolulu, focusing mainly on Hawaiian art and works of Hawaiian artists.
The Contemporary Museum Honolulu Photos