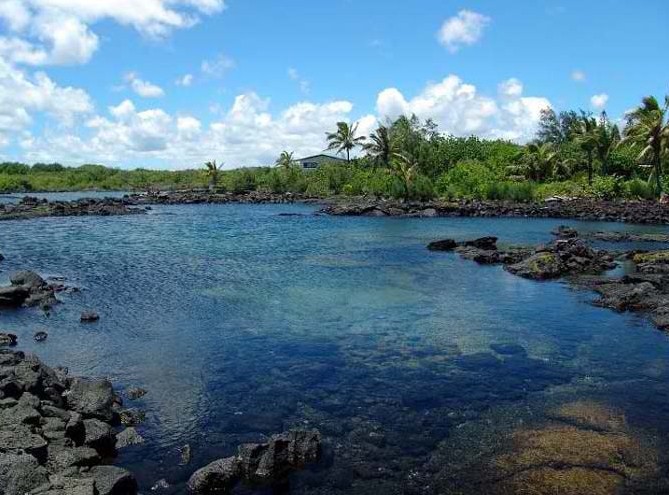 The Big Island of Hawaii offers some of the best diving and snorkeling spots in Hawaii. It boasts of vibrant coral reefs and diverse marine life. One of the most popular sites for snorkeling in these parts is Kapoho, a coastal town in Puna district.
Kapoho is well known for its black sand beach and tide pools, some of which are naturally-heated by volcanic activity! The numerous tide pools stretches almost a mile down the coast and extend up to 200 yards out into the ocean.
Some of the pools sit on private properties and many local residents have incorporated them into their properties to be used as private swimming pools or natural hot tubs. Because of this, Kapoho is considered as the most expensive area to live in Puna with many homes costing over $1,000,000.
The water in Kapoho Coast is usually calm and the tide pools are protected from the surf regardless of the ocean conditions. However, extreme caution is advised when venturing into the ocean, beyond the pools.
Many of the tide pools are interconnected. Those closer to the ocean contain more sea life. The water in the pools is usually crystal clear that many tourist enjoy their time there even if didn't bring their own snorkeling gear.
The calm water condition is excellent for children and non-swimmers but reaching the pools involves a short walk over rough and slippery lava rocks so wear beach shoes and always use caution especially when with young kids.
How to get there:
Take Highway 130 south from Pahoa. When it dead ends at Highway 137, turn right. Just before Mile Marker #9, turn left on Kapoho Kai Road. Take the next left on Kaheka and then right on Waiopae.
UPDATE:
On the morning of June 5, 2018, Kapoho Bay and its beloved tide pools were destroyed by slow-moving lava flow as Kilauea Volcano's eruptive episodes continue to cause havoc on southern Big Island.