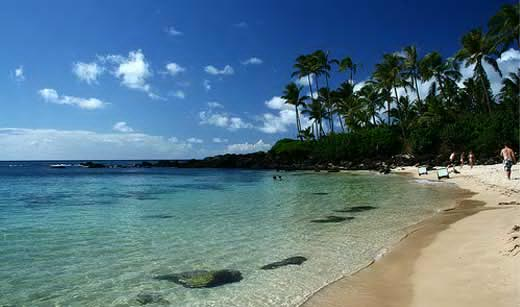 Chun's Reef is a wide sandy beach and popular surf site on Oahu's North Shore. The long stretch of sand begins at this beach and ends at Kawailoa Beach to the east. This beach is located right next to Kamehameha Highway.
The area is known for the large, powerful waves during winter months, providing great surfing opportunities for experienced boarders. Observe all warnings and do not enter water when large swells are present.  Snorkeling and swimming are great during summer's calmer conditions. The beach is also a favorite spot for watching sea turtles which often come ashore.
The surf site was named after John Chun, a former resident of Kawailoa, who owned a two-story house nearby a beach. Chun's children were also avid surfers, but not at the surf site fronting their home which has a rocky shore. Called Leftovers, the site is known to be hard on surfboards in the pre-leash days of the 1950s and 60s. Loose surfboards lost in wipeouts ended up on the rocks, where they were often damaged. Surfers who try to retrieve their boards also had to deal with a shallow reef inshore that was covered with sea urchins.
The Chun children preferred to surf at another site nearby that was free of rocks and sea urchins. In the 196os, a close family friend named the spot "Chun's Reef" and the monicker remained to this day.
Near the beach is Chun's Reef Support Park, a small undeveloped parcel of land owned by the City and County of Honolulu on the inland side of Kamehameha Highway at Chun's Reef. Surfers use this park to cross the wide sand beach fronting the park to reach several other surf sites apart from Chun's Reef, such as Pidleys and Jocko's.
Chun's Reef is located at 83 Kamehameha Highway, Haleiwa, Oahu, Hawaii.
Save