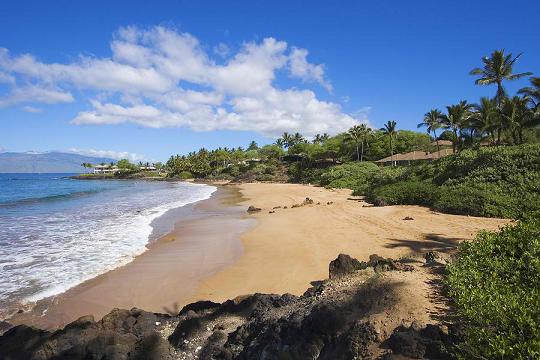 Chang's Beach is a small beach in Makena, on Maui's south shore in Hawaii. It is situated on a sandy cove with an offshore reef that offers excellent snorkeling opportunities when the ocean is calm. During high surf, the beach is a popular destination among local and visiting surfers and bodyboarders.
The beach was locally called Ulupikanui which means "large fig tree" in Hawaiin, referring to massive tree that used to be in the area. The not-so-Hawaiian nickname was after the Chang family, who owned and farmed the land in the immediate area.
Just south of the beach is a family graveyard, which became the namesake for the "Five Graves," a popular diving and snorkel spot offshore. Five Graves is dubbed as one of Maui's best snorkeling spots.
Apart from spectacular coral reef and breathtaking marine life, Five Graves is also known for a series of underwater caves. However, the caves are too deep and are better left to experienced divers.
Chang's Beach is near Kalama Park and just south of Po'olenalena Beach. There are no lifeguards and facilities.
Save