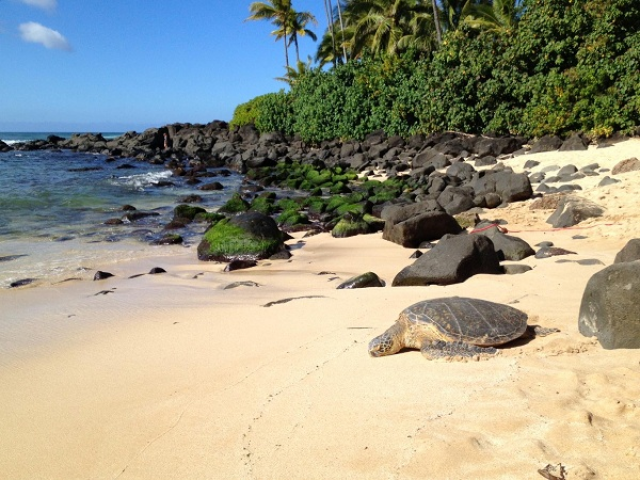 Laniakea Beach is one of the most popular beaches on Oahu's north shore despite its usually rough water conditions and rocky beach bottom. Most people flock here not to swim or engage in water but to watch green sea turtles, locally called honu.
The beach, aptly nicknamed Turtle Beach, has become s a favorite resting spot for these legendary reptiles which crawl ashore almost daily to bask in the warm Hawaiian sun. Sea turtles are known to be shy and elusive creatures but these Hawaiian green turtles have become accustomed to seeing humans and are not bothered getting watched or photographed from a safe distance.
Honus were listed as endangered/threatened species on July 28, 1978 under the federal Endangered Species Act. They are protected under Hawaii state law, prohibiting anyone from touching, feeding or chasing them. Volunteers make sure that these laws are not violated by laying red ropes around basking turtles to mark off  "no-go" zones. They also hand out literature and share information about the turtles and how to protect and conserve them.
Visitors are allowed to interact with the turtles while swimming or snorkeling during calm conditions. However, they should give the green sea turtles at least 10 feet of space and not block their path. While generally friendly, be warned that honus have been known to snap or nip people who have gotten too close.
Apart form green sea turtles, Hawaiian monk seals also come to rest in this beach, making visits an excellent educational experience for both children and adults.
To get to Laniakea Beach, drive about 1.5 miles on Kam Highway from the historic town of Haleiwa. Just before Pohaku Loa Way, you will see lots of cars parked in the dirt on the right-hand side. Pull over and park. The beach is across the highway.
Save