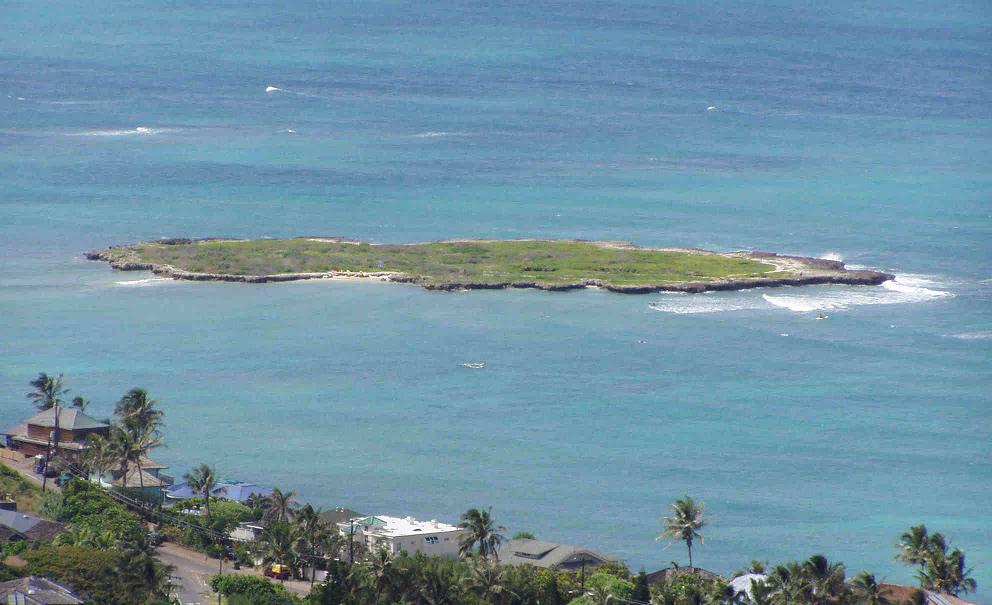 Popoia Island, or Flat Island, is a four-acre horizontally-oriented island off Kailua Bay, about one-fourth mile from Kailua Beach Park, in Oahu, Hawaii. Currently a protected seabird sanctuary, the island also boast of a tranquil and beautiful stretch of sand. It is a popular kayaking and surfing destination, when the ocean conditions and tradewinds are ideal. The surf breaks at the island are popular among beginner surfers and longboarders.
Popoia literally means fish rot in Hawaiian, in reference to the island's history as a  shrine used by ancient Hawaiians to offer fish meat to the gods for good luck in fishing. The shrine, however, is no longer there.
The small strip of sand on the southwest side Popoia Island is a great spot for picnics and offers spectacular views of Kailua, Lanikai Beach, the Mokulua Islands, and East shore of Oahu. The nearby Lanikai Point offers excellent snorkeling opportunities as well as green sea turtle-watching.
To get to Popoia Island, park over by the boat ramp located where Kailua bay ends and Lanikai begins. Then paddle out to the island. The island is home to over 3,000 wedge-tailed shearwaters so watch your step and look out for nesting holes.
Save