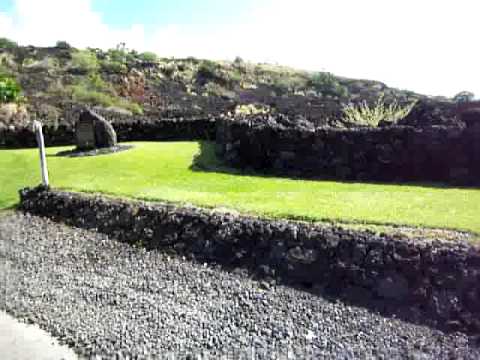 Lekeleke Burial Ground, also known as the Kuamo'o Burials, is a historic battlefield and burial site located on Kuamo'o Bay in the North Kona District on the Big Island of Hawaii. Over 300 warriors were killed on the site during the epic Battle of Kuamo'o. The area is listed on the Hawaii register of historic places, as well as in the National Register of Historic Places.
Kuamo'o is historically significant because it is the site of the bloody battle between two powerful cousins, Kekuaokalani and Liholiho (Kamehameha II) in 1819. Kekuaokalani and his wife, Manono, gallantly led the fight to preserve traditional ways, but were ultimately defeated by the forces of Liholiho who were seeking to end the ancient Hawaiian religious system called the Kapu.
Western rifles were used by both factions which contributed to the high death toll. Today, terraced graves on this lava field serve as memorials to the hundreds of warriors who fell during the battle. Ti leaves, wrapped around lava stones, are offered on the graves by native Hawaiians.
A plaque on a boulder explains the circumstances of the battle and how over 300 were killed. Visitors are requested to stay on the trails and respect the sanctity of the historic site by not disturbing anything.
Lekeleke Burial Ground is located at the end of Ali'i Drive in Keauhou.
Save