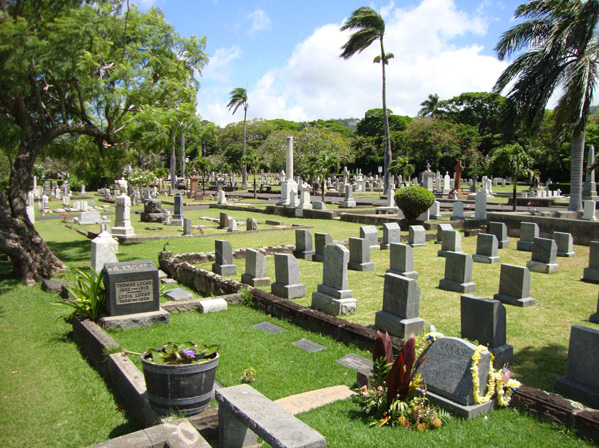 Oahu Cemetery is a sprawling Victorian graveyard where the remains of some of Oahu's most important personalities lay buried. It was founded in 1844 and served as the first ever public cemetery in Honolulu. It is located in the lush Nuuanu Valley and is also referred to as the Nuuanu Cemetery.
Covering 18 acres of beautifully landscaped grounds, the cemetery is now the permanent resting place of more than 30,000 Hawaii residents including many historic and influential individuals.
Some of the prominent personalities interred here include baseball pioneer Alexander Joy Cartwright, Jr; anthropologist Kenneth Emory; painter Jules Tavernier; philosopher Joseph Campbell; sugar barons James Campbell and Benjamin F. Dillingham; Hawaiian musicians Sonny Cunha, Johnny Noble and Charles K.L. Davis; botanist Joseph Rock, and politicians George R. Carter, Lawrence M. Judd, Oren E. Long and Ingram Stainback.
Oahu Cemetery also serves as an awe-inspiring outdoor museum featuring an extensive collection of the finest 19th century funerary art such as obelisks, Celtic crosses, neo-classical temples, angel statues, stylized urns and bas-relief sculptures, in all of Hawaii.
Oahu Cemetery is located at 2162 Nuuanu Ave., Honolulu, Hawaii. It is open daily, from 7am to 6pm.
Image courtesy of oahu-cemetery.org
Save
Save