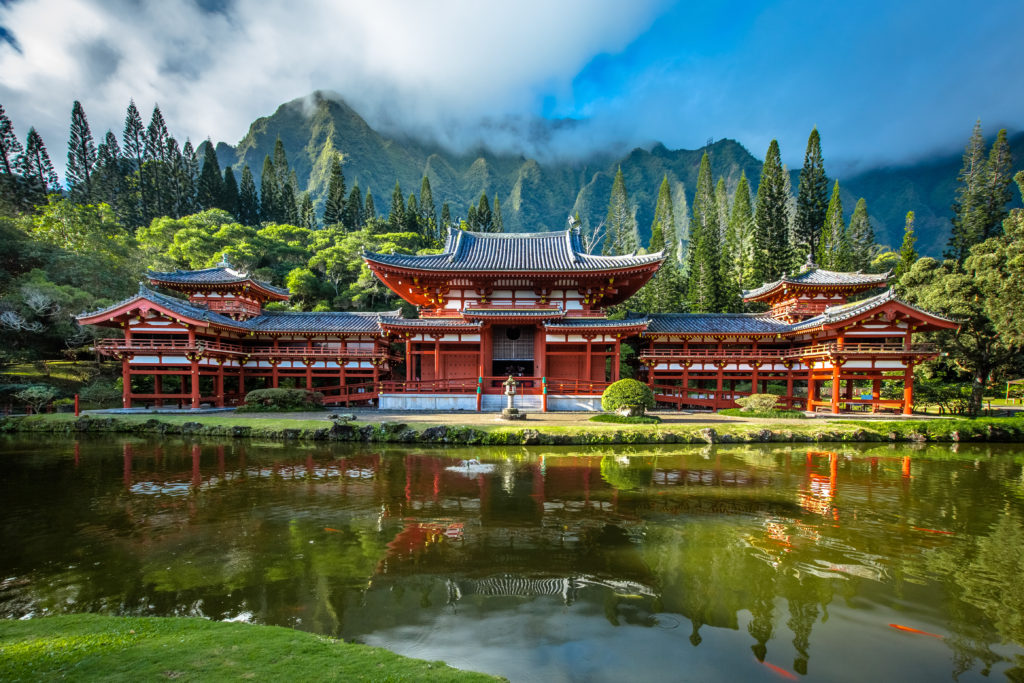 Byodo-In Temple is a non-practicing Buddhist temple located in the picturesque Valley of the Temples Memorial Park at the foot of the Koolau Mountains in Oahu. It was built in 1968 to commemorate the 100 year anniversary of the first Japanese immigrants to Hawaii.
The temple, which is a half-size-scale replica of the over 950-year-old Byodo-in Temple of Uji in Kyoto prefecture of Japan, features traditional Japanese architecture with concrete as the main construction material.
Inside the temple's massive Phoenix Hall is a gigantic statue of Buddha, dubbed as the largest wooden Buddha made outside Japan. The statue, which was carved by the famous Japanese sculptor, Masuzo Inui, is clad in gold leaf. Around it are 52 smaller sculptures depicting Boddhisattvas (enlightened beings) floating on clouds, dancing and playing musical instruments.
Outside the temple is another structure which houses the Bon-sho or Sacred Bell. The five foot high, three ton bell made of brass and cast in Japan closely resembles the 900-year old bell that hangs in a Bell House at the original Byodo-In Temple in Uji. A soft wooden log called the shu-moku is used to strike the bell to create a sound of deep calm and peace, which cleanse the mind for meditation.
Another equally arresting attraction is the beautiful Zen garden that surrounds the temple. The sprawling grassy lawns, which covers a total of two acres (8,000 m²), feature beautifully landscaped gardens and a large pond teeming with colorful kois. These fishes can be fed by guests with fish food available from the Gift Shop. Aside from kois, the garden is also home to other beautiful creatures such as black swans, turtles and peacocks.
On top of a hill behind the temple is a red-pillared meditation pavilion, a very serene place prefect for private thoughts and meditation.
The Byodo-In Temple welcomes people of all faiths faily, from 8:30 am to 4:30 pm. Apart from worship, the temple grounds are also used for weddings and other events. Admission to the temple grounds is $2 per person.
The temple is at 47-200 Kahekili Highway, Kaneohe, Hawaii 96744.
Byodo-In Temple - Oahu, Hawaii Photos