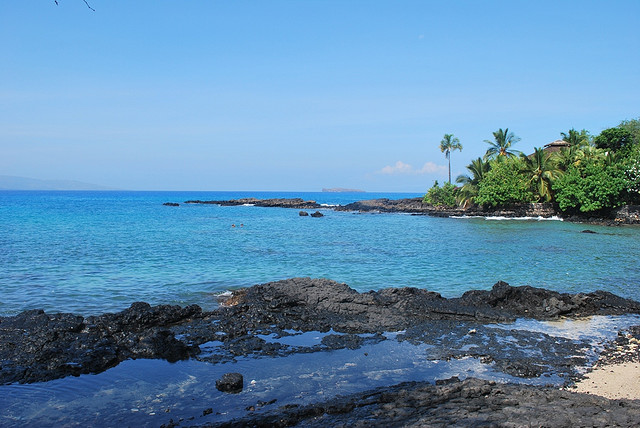 Ahihi Cove is a popular snorkeling spot in Maui. The cove is part of the the Ahihi-Kinau Natural Area Reserve and home to a rich diversity of marine plants and animals. Being a protected area, it is illegal to catch any fish or marine creatures here.
The coral reefs of the cove and the entire reserve are among the finest in Hawaii. At least 33 species of coral, 53 species of subtidal invertebrate, and 75 species of fish (17 endemic) call the reserve home. Five marine species with protected status frequent the reserve, namely, Hawaiian monk seal or 'Ilio‐holo‐i‐ka‐uaua (Monachus schauinslandi); Hawksbill turtle or 'ea (Eretmochelys imbricata); Green turtle or honu (Chelonia mydas); Spinner dolphin or nai'a (Stenella longirostris longirostris); and Humpback whale or kohalā (Megaptera novaeangliae).
If you are looking for sand, you will not find it here at Ahihi Cove. The coast line is mostly made up of lava rocks intermixed with corals because this is where the lava flowed when Mt. Haleakala erupted in 1790 and covered this entire area. The lava rocks provide excellent environment for marine life to flourish. The absence of sand also keep the water crystal clear, a perfect condition for snorkeling because there is less sand to obscure your view.
The water at Ahihi Cove is also calm and suitable even for young children. You don't have to swim far to snorkel as the shallow waters is already teeming with spectacular marine life, thanks to the lava rocks that provide them homes.  The water starts at about knee deep gradually getting deeper so there's a variety of depths for all skill levels.
This is quite a remote destination so don't expect any lifeguards and facilities. Also be advised that this area is protected and removal of any marine life, coral or rocks is strictly prohibited.
Ahihi Cove can be reached at S. Makena Rd., Kihei, Maui, HI 96753 (located 0.1 miles south of the first reserve sign).