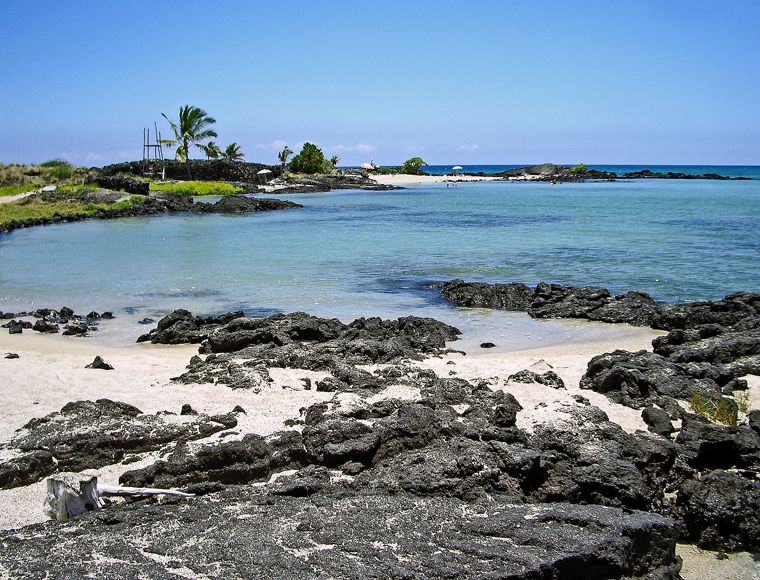 Ai'opio Beach is a beautiful crescent-shaped beach just north of Honokohau Harbor on the Big Island of Hawaii. It is a popular beach for swimming due to the calm blue waters and an ideal picnic spot because of the soft fine sand and picturesque views.
The beach is protected from strong surf by offshore reefs, so swimming is usually safe even for children. It is also a favorite feeding spot of sea turtles, often seen on the shallow waters of the cove where limu (seaweed) thrive. While these creatures are gentle and do not attack humans, only watch them at a safe distance. Sea turtles are an endangered species and it is prohibited by law to interact or touch them.
The beach offers magnificent views of the west Hawaiian coast which is even more spectacular during sunset. Facilities include shady areas, restrooms and showers. There are no lifeguards. Parking is available at the north lot of Honokohau Harbor.
Ai'opio Beach is part of the Kaloko-Honokohau National Historic Park, a rich archaeological site which is home to a natural fishpond called Ai'opio Fish Trap. The pond is carved out of black lava rocks by ancient Hawaiians and used to attract fishes during hightide which are trapped when the tide subsides making them easier to catch.
To get to Ai'opio Beach, take Highway 19 north of Kona and turn left between Mile Markers # 97 and 98. This road leads to the Honokohau Harbor. Bear to the right and go to the north parking lot. A short trail leads to the beach.