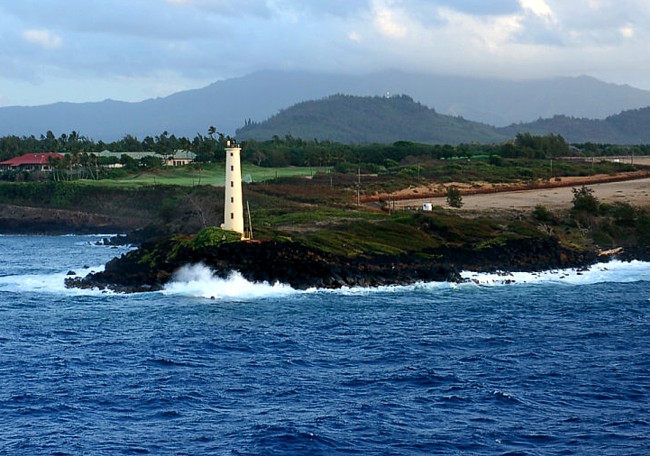 The Ninini Point Lighthouse is an 86-foot high white washed lighthouse located on the spectacular Ninini Point, south of Lihue in Kauai, Hawaii. It overlooks the beautiful Nawiliwili Bay.
The original lighthouse was established in 1906 using wood which eventually became dilapidated and unsafe. It was torn down and replaced with a lens lantern atop a thirty-three and a half foot tall mast.
When Nawiliwili Bay became the principal port on Kauai, the need for a high-powered, long range lighthouse to served the harbor led to the construction of the present concrete tower which was completed in 1932.
During World War II, the Ninini Point Lighthouse as well as other lighthouses in Hawaii, was purposely not lighted to prevent possible attacks.
Since its extablishment, the lighthouse was manned by a caretaker who makes sure that it is lit every night. In 1953, the lighthouse was automated but an attendant remained at the station and was responsible for routine maintenance.
In 1984, the tower's fourth-order Fresnel lens was replaced by a DCB-36 beacon. The lantern room has also been removed from the tower, compromising the structure's appearance.
At present, the tower is not open to the public because there is no full-time lightkeeper. However, visitors are ocassionaly allowed to climb to the top whenever a maintenance personel is around.
To get to Ninini Point Lighthouse, take Highway 50 toward Lihu'e. Turn right on Rice Street (where Highway 50 becomes Highway 56). Approximately 1 1/2 miles down Rice Street, turn left. This road leads past the Kiele and Lagoons Golf Courses. Park near Ninini Beach. Follow the trail past the 13th hole of Lagoons Course, past the beach and to Ninini Point.
Save