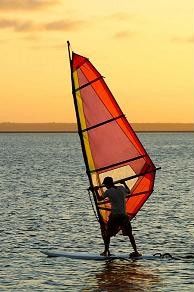 Kailua Beach Park, located on Oahu's windward coast, is one of the most popular beaches in Hawaii especially for water sports like wind surfing, surfing, kite-surfing and kayaking.
Due to its geographical location and weather conditions, Kailua Beach offers more than just gorgeous scenery. It also gives visitors a myriad of recreational options. Fishing, sailing, windsurfing, kayaking, snorkeling, surfing, and kite-boarding are all popular activities here. Gear sales/rentals and lessons are readily available from the shops within walking distance to the beach. If you are bringing kids, then it might be wise to purchase kids wetsuits in preparation of your visit.
The prevailing trade winds blow toward the shore making Kailua Beach the best and safest spot to learn windsurfing and kite surfing.
The clear calm waters, numerous reef formations, and three offshore islands is great for kayaking, snorkeling, diving and other water activities.
There are no hotels in Kailua but there are some vacation rentals ranging from single rooms to luxurious beachfront estates. Great restaurants and shops also abound in this little town.
One of the most awaited event at Kailua Beach Park is the annual fireworks display on the fourth of July.