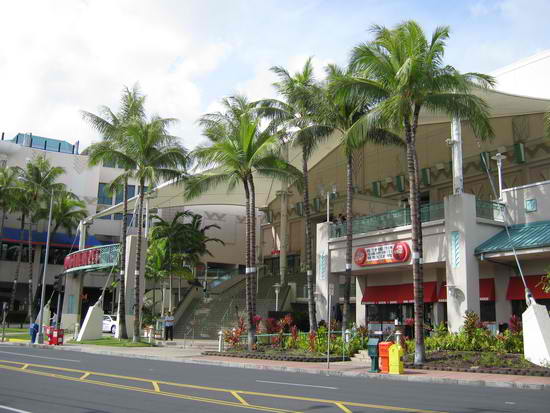 Ward Centers, formerly known as Victoria Ward Centers, is a sprawling shopping complex comprised of several retail and entertainment venues located at Kaka'ako in Honolulu, Hawaii. It was named after Victoria Ward, wife of Honolulu industrialist Curtis Perry Ward and daughter of influential British shipbuilder James Robinson, who owned sprawling parcels of land at Kaka'ako which were developed into shopping hubs after her death.
The Ward Centers is comprised of Ward Entertainment Center, Ward Centre, Ward Farmers Market, Ward Gateway Center, Ward Village Shops, Ward Warehouse, Ward Gateway Center, 404 Ward Avenue, and the new Ward Entertainment Center, a sprawling entertainment venue featuring a 16-screen cinema complex, the largest of its kind in Hawaii. These centers are located within walking distance between each other.
Each of the Ward Center venue boasts of its own decor and style, and features  not-run-of-the-mill shops as well as popular brands including Nordstrom Rack Outlet, Pier 1 Imports, Sports Authority, and Borders Books & Music. A selection of restaurants and cafes serve a wide variety of dishes to fill any craving and appetite.
Ward Centers are located at 1240 Ala Moana Blvd., Honolulu, Hawaii. It is open daily, from 10am to 9pm. Other nearby tourist attractions include the Ala Moana Park and Ala Moana Center.
Save