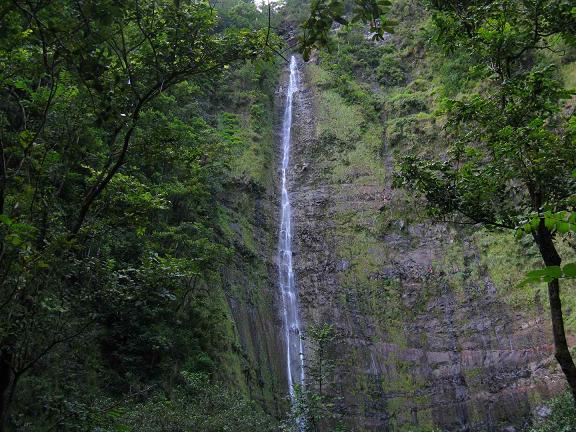 Located at the end of the Hana Highway in the Kipahulu area of Haleakala National Park, Waimoku Falls is a spectacular waterfalls with a 400-foot drop. Accessing the falls entails traversing the infamous Hana Highway, known for its 620 dangerous curves and over 50 single lane bridges. This part of the journey to Waimoku Falls is an adventure in itself. With an experienced driver on the wheel, visitors can enjoy the breathtaking coastal views.
Then, visitors have to tackle a 3 to 5-hour hike on Pipiwai Trail starting from the Haleakala National Park's Kipahulu Visitor Center before they can admire Maui's largest waterfalls up close and personal. The trail features crossing the Pipiwai Stream several times and venturing into a dense bamboo forest. Along the trail are some vantage points to smaller waterfalls as well as magnificent Banyan trees.
With an elevation gain of just 600 feet, the hike is not too strenuous but expect to break some sweat. There is also a boardwalk which makes the hike comfortable.
The trail ends at the foot of the cascading behemoth where visitors can get as close as they feel comfortable. Unfortunately, there is no swimming hole at the bottom of Waimoku Falls. Visitors are advised not to stand directly under the falls as the constant cascade of water can also bring occasional rocks and branches plummeting down to the boulders below. Even a small pebble can cause serious injury if it hits you from 400 feet up.
The area is also one of the wettest places in Maui and the hike route is prone to flash flooding. Visitors should monitor weather forecasts and do not attempt the hike under threat of rain. Also wear footwear with good grip, since the terrain can get muddy and slippery. Also bring plenty of water, mosquito repellent and sunscreen.
To get to the Waimoku Falls, take Highway 31 south from Hana. The parking lot for all falls and trails is located just past Mile Marker #42 on the ocean side of the road. Follow the signs to the trail head.