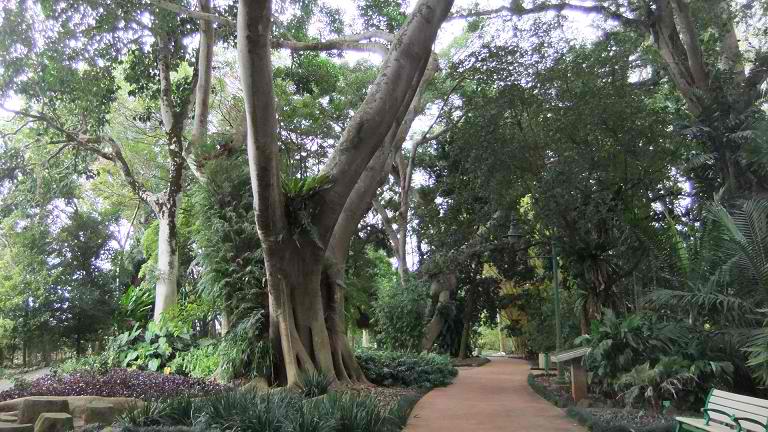 The Wahiawa Botanical Garden is a 27-acre park located on a high plateau between the Waianae and Koolau Mountains in central Oahu, Hawaii. It is one of the Honolulu Botanical Gardens, and home to a collection of tropical flora requiring a relatively cool environment, with emphasis on native Hawaiian plants.
At an elevation of nearly 1,000 feet above sea level, the garden receives about 65 inches of rain each year, providing a cool and humid environment for a distinguished collection of Hawaiian palms, aroids, ferns and epiphytic plants. There are also many plants from other regions such as Africa, Asia, Australia and the South Sea islands.
Among the species on display are the elephant apple, rainbow eucalyptus, blue ginger, koa, shaving brush tree, candle tree, Mexican cedar, Queenland kauri, mamaki and camphor tree.
Most of the garden's large trees date from the 1920s, when the site was used by the Hawaiian Sugar Planters' Association for experimental tree planting. The property was transferred to Honolulu in 1950, and opened as a botanical garden in 1957.
Paved pathways circle the grounds of the garden. Visitors are advised to wear good walking shoes as some of the trails can be very slippery. Visitors are asked to follow precautions, such as not touching or eating unfamiliar plants. The Wahiawa Botanical Garden is open daily from 9 am to 4 pm. Admission is free.
How to get there:
Wahiawa Botanical Garden is located at 1396 California Avenue in Wahiawa about one mile east of Kamehameha Highway (Hwy. 80). From Waikiki take highway H-1 west to the H-2, then take the H-2 north to Exit #5 (Wahiawa). When you see California Avenue follow the signs to Wahiawa Botanical Garden.