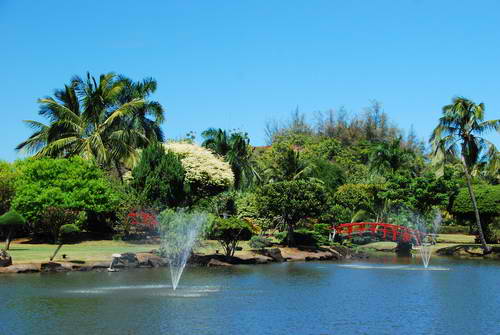 Smith's Tropical Paradise is a 30-acre botanical and cultural garden located within the Wailua Marina State Park on the east side of Kauai. The property, owned and managed by the Smith family for over 50 years, sits on a valley beside the Wailua River, the only navigable river in Hawaii. It is easily accessible via Highway 56 but far removed from traffic noise, making it a perfect setting for a  family picnic or quiet stroll along lush tropical gardens.
Attractions include the Tropical Orchard (featuring over twenty species of tropical fruit trees such as breadfruit, star fruit, jackfruit, macadamia nuts and soursop), a bamboo grove and a colorful garden of flowering tropical plants. Replicas of Polynesian and Filipino native huts pepper the site while peacocks and other birds are allowed to thrive in the lush surroundings. A Japanese-themed garden island is a popular venue for weddings.
The Smith's Tropical Paradise is also known for its traditional luau feast, dubbed as the best luau experience in Kauai. Apart from the feast featuring traditional Hawaiian dishes such as Garden Green Salad, Poi, Bean Salad, Oriental Fried Rice, Kalua Pig, Teriyaki Beef, Abodo Chicken, Sweet Sour Mahi mahi, Macaroni Salad, Namasu Salad and Lomi Salmon, guests are entertained by native Hawaiian music and a cultural show presenting authentic folk dances from Hawaii, Tahiti, Samoa, Philippines, New Zealand, China and Japan.
The Smith's Tropical Paradise is open daily from 8:30am to 4:00pm. Admission fee is $6 for adults and $3 for children ages 3-12.
Luaus begin at 4:45pm (November - February) and 5pm (March - October). Ticket prices are $88 for adults (pre-booking online entitles you to a $10 discount), $30 for kids aged 7 to 13 and $19 for children under 7 years old. Check out the website for reservations and inquiries.
How to get there:
From the North (Hanalei, Princeville, Kapaa): Take Hwy. 56 South through Kapaa to the Wailua River. Go past Kuamoo road, over the river, and take the first right into the Wailua Marina State Park.
From the South (Waimea, Poipu, Lihue): Take Hwy. 56 North from the Lihue airport. A mile after the Wailua Golf Course, watch for Marina signs and the beach on the right. Just before crossing the Wailua River bridge, turn left into the Wailua Marina State Park.