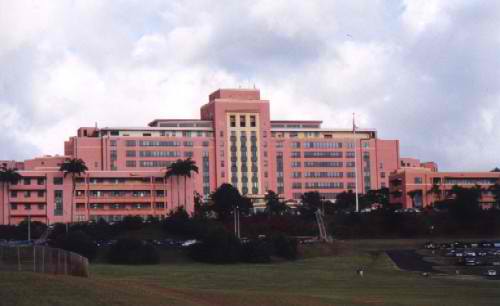 The Tripler Army Medical Center is one of the most recognizable landmarks in Honolulu, Hawaii. Built in 1942 and completed in 1948, it is recognized as the largest military hospital in the Asian and Pacific Rim region and serves a military sphere of jurisdiction that spans over 52% of the Earth's surface.
The massive medical complex, located on the slopes of Moanalua Ridge overlooking the Honolulu neighborhoods of Moanalua and Salt Lake, is named after American Civil War medic, Brigadier General Charles Stuart Tripler, who made significant contributions to the development of military medicine.
The center started out as a small hospital comprised of few wooden buildings built in 1907 at Fort Shafter, the oldest military base in the island of Oahu. During World War II, Lt. General Robert C. Richardson Jr., then military governor of the territory of Hawaii, commissioned the construction of a much larger medical facility to treat injured military personnel. The new facility, located on the sprawling Moanalua Ridge site was officially dedicated on September 10, 1948.
The center's signature coral pink hue was said to be inspired by the Royal Hawaiian Hotel in nearby Waikiki. Apart from the color, some architectural elements of the hotel were also incorporated in the medical center. The complex can be seen from any point in the Honolulu District, making it one of the city's most popular landmarks.
The Tripler Army Medical Center is also home to the Center of Excellence in Disaster Management and Humanitarian Assistance, which is the only United Nations designated Peace Operations Institute currently in the United States.
Save