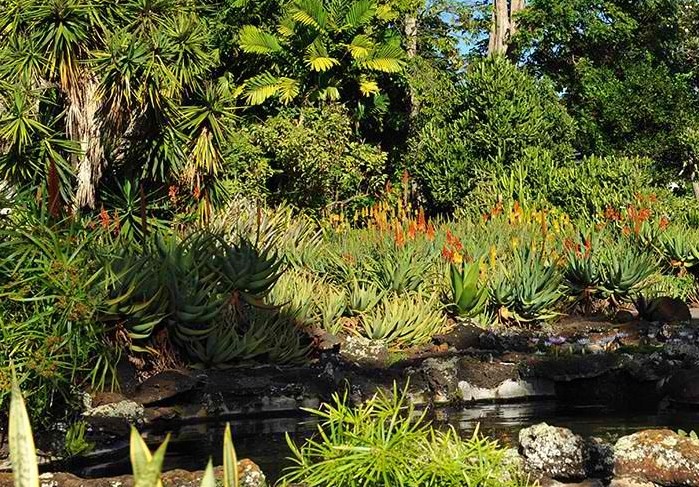 The Moir Gardens is a 35-acre botanical gardens located within the Outrigger Kiahuna Plantation in Poipu, Kauai. The gardens date back to the 1930s and were created by Alexandra Moir, wife of Hector Moir, who was then manager of the nearby Koloa Plantation, Hawaii's first sugar plantation.
Because of the dry climate in Poipu, Alexandra Moir realized that most tropical plants will not thrive in the area. She decided to fill her gardens instead with cacti and succulents, as these plants flourish in such dry conditions.  
The gardens, also called Pa'u a Laka (meaning "skirt of laka" and named after the Hawaiian goddess of hula), were initially intended for the personal use of the Moirs. After a few years since their creation, the Moir Gardens started to be recognized and was even identified as "one of the ten best cactus and succulent gardens in the world," alongside other world-renowned gardens such as the Huntington Gardens and the Royal Gardens of Monaco.
In 1954, the Moirs opened the gardens to the public. Apart from rare cactus and succulent species, the gardens also feature a wide variety of orchids, bromeliads and trees that require very little rain to survive.
There are also native Hawaiian plants such as wiliwili, hau, coconut and plumeria, as well as foreign species collected by William Whitmore Goodall Moir (Alexandra's brother-in-law) during his travels abroad.
Other attractions in the Moir Gardens are the numerous lava rock ponds filled with Japanese koi and water lilies. The paved paths are perfect for romantic strolls before or after dinner at the Plantation Gardens Restaurant, housed within the Moirs' historic plantation estate home.
The Moir Gardens are located at 2253 Poipu Road in Poipu, Kauai. They are open daily with free admission. Other nearby tourist attractions in the area are the Poipu Beach Park and the Spouting Horn.
 The Moir Gardens in Poipu, Kauai, Hawaii Photos