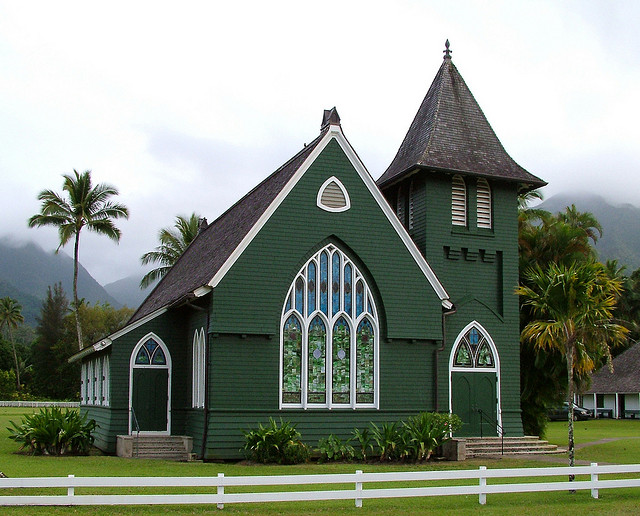 The Waioli Huiia Church is a beautiful mission church only a few yards inland of Kuhio Highway in Kauai, Hawaii. It was established by American Christian Missionaries in 1834. It was originally a simple pole and thatch structure which was later replaced by a timber frame and plaster building in 1841. The lime for the plaster was made from coral which was dug at low tide.
In 1912, the current church building wаs built wіth donations frоm Sam, George, аnd Albert Wilcox (sons оf the missionary couple whо were born аt the station) while the 1841 structure wаs converted into a Mission Hall. Apart from the church and mission hall, a school for Hawaiian boys was also built in the premises.
The church and mission hall were restored after sustaining significant damage from Hurricane Iniki in 1992. Both buildings are listed on the state and national registers of historic places. The Mission Hall is now a museum.
Waioli Huiia Church was built in the American Gothic architectural style, featuring shingled roof and a belfry tower housing the old Mission Bell which was acquired in 1843. The bell is still rung to call people to worship. Other notable architectural details of the church are the colorful stained glass windows and emerald green clapboards that cover the exterior walls, hence, its nickname "Green Church". The church is now a popular Kauai landmark visited by locals, tourists and photographers to marvel at its beauty and historical significance.
Waioli Huiia Church is located at 5-5363A Kuhio Highway at Hanalei Bay in Kauai, Hawaii.
Photo credit: f//stop
Save