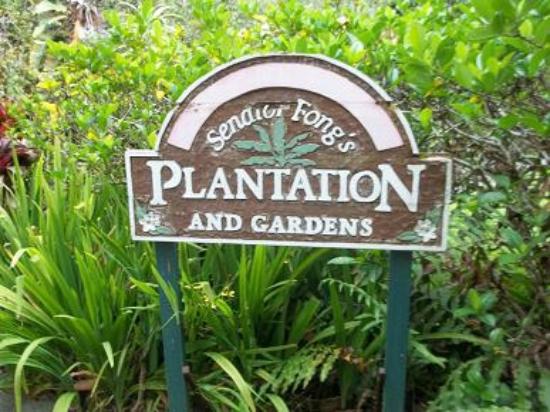 Senator Fong's Plantation & Gardens is a privately owned garden estate located at 47-285 Pulama Road, Kaneohe in Oahu. The 725-acre tropical garden features an extensive collection of exotic fruit, nut and palm trees from different parts of the world as well as plants introduced by early Polynesians to the island such as bamboo, betel nut, breadfruit, coconut, ginger, hau, kamani, kukui, noni, 'ohi'a'ai, sugar cane, taro, Tahitian chestnut, ti and tumeric. The scenic landscape is made even more breathtaking with the Koolau mountain range in the background and stunning ocean views in one part of the property.
The garden is owned and managed by the family of the late Senator Hiram Fong, the first Chinese-American elected to the U.S. Senate. Senator Fong bought the land, which was originally owned by King Lunalilo, in 1950. The senator, who passed away in 2004, had always attributed his long and healthy life to the gardens which had become his retreat upon retirement.
Senator Fong is the seventh of eleven children of a Chinese immigrant who came to Hawaii to work as an indentured sugarcane plantation worker. In 1988, the State Department of Agriculture donated 100 rare sandalwood trees to the Senator Fong's Plantation & Gardens to commemorate the bicentennial of Chinese immigrants to Hawaii.
The landscape in the area is pretty much the same as what early Polynesians saw hundreds of years ago. Pili grass, now a rare plant in Oahu used as roofing materials by ancient Hawaiians, still thrives in the garden's sprawling slopes.
The beauty and wonders within Senator Fong's Plantation & Gardens is best exploredd in a 1 mile (1 and a half hour) Guided Walking Tour (10:30am & 1pm daily) conducted by friendly and knowledgeable staff who encourage visitors to smell the flowers and taste the fruits and nuts along the way, making the walk a multi sensory experience.
The $14.50 entrance fee for adults and $9 for kids, is all worth it. Lei Making Classes are also available ($6.50), using blooms and foliage found in the gardens. Park facilities include ample parking and a Visitor Center with a gift shop, snacks and refreshments bar, restrooms and a Visitor Hall which is a popular venue for weddings and other events.
Senator Fong's Plantation and Gardens is open from 10 am to 2 pm daily except for Christmas and New Years Day.